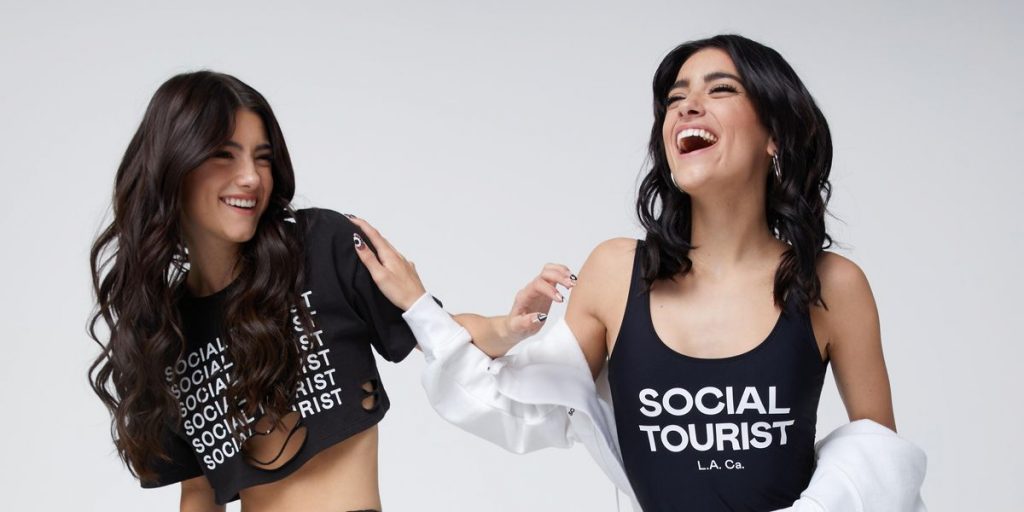 Charli and Dixie D'Amelio are announcing their new clothing line Social Tourist. Social Tourist, a new brand under the Abercrombie & Fitch portfolio that will be sold at their Hollister stores and online.
The launch, which is slated for May 20, is part of a multi-year partnership between the D'Amelios and Abercrombie & Fitch Co. Hollister tells us, both Charli and Dixie were involved in every aspect of Social Tourist, including product selection, design, branding, positioning and marketing. Dad Marc D'Amelio, who has a 30-year background in sales and design, will serve as the brand's consultant.
"The first product drop is all about introducing the brand to our fans, and the second drop in June reflects our individual personalities – designs that reflect Dixie's personality are a bit edgier, with dark color palettes and patterns, where my vibe is shown through super feminine and cute styles. We can't wait to put our vision out into the world!" added Charli D'Amelio.
Social Tourist will consist of gender inclusive items and trend pieces such as dresses and skirts, everyday basics and swimwear. Each collection will include limited-edition items, with new product dropping approximately every month.
The sisters currently have a combined 250 million followers across their social media handles and in November 2020, Charli became the first TikTok user to surpass 100 million followers on the platform. Fans are encouraged to discover the new brand at socialtourist.com and on their Instagram at @socialtourist ahead of the official launch on May 20.
Check out the Social Tourist video below.