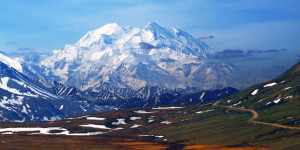 What do Alaskan natives and the people of Ohio have in common? A name, Mt. McKinley. It was on Sunday night that President Obama came out saying he will legally restore the name of the famous mountain range in Alaska back to its original name given by the Alaskan people, Denali. This controversy has been debated for decades among the Alaskan natives who don't seem to understand the connection between their mountain and an ex-president. The previous name Mount McKinley was given as a tribute to the late President McKinley when the tallest peak was first explored in 1917. Although having no other connections to Alaska (The president had in fact never even visited the state) the Mount was given the name to honor the Ohio President.
However, natives of the area have been trying to dispute the name for years as "Denali" was the name originally given by Alaskan aborigines meaning "The Great One" or "The High One," stemming from Koyukon Athabascan words.
For some Ohio residents, it is a sign of disrespect for President McKinley. Representative of Ohio, Michael Turner, stated to the NY Times that "The president's recent actions to remove his name and undermine a prior act of Congress is disrespectful, and I will continue to fight for proper recognition of President McKinley's legacy,". Republican presidential candidate and Ohio Governor John Kasich as well openly opposes Obama's decision. And of course Donald Trump had something to say about it when he tweeted "President Obama wants to change the name of Mt. McKinley to Denali after more than 100 years. Great insult to Ohio. I will change it back!"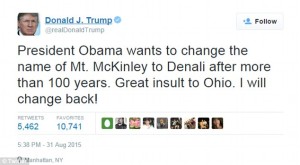 But to those sympathetic of the native american experience, this is a major win. Although just a name, this is seen as a huge symbol for the Alaskan people reclaiming their own unique heritage.
It is a not just a name but a reminder of their 10,000 year old culture, the culture that was once stripped from them by American colonization. So I ask of a favor from the American public; can't we just agree that this is the least bit we Americans can do to restore an at risk population that was once decimated by our wrongdoings? It won't fix the economic and social injustices of the people there, but it's a start.
Let us know your thoughts in the comments or on Twitter with the hashtag #glamorouspaper