Since the end of the election, you may have noticed a unfamiliar new trend. Except, its not a trend at all. Wearing 'safety pins' on your clothing is actually a very meaningful political message. The purpose of wearing safety pins as a political stance first started in the U.K. Just after the vote to leave the European Union there was an increase in hate crimes. As a way to show support and solidarity for immigrants, people in the U.K. started to wear safety pins.
The simple gesture spoke volumes, especially for those in need of that support. It was a strange but unique way to help immigrants feel safer and to unite those against hate in the U.K.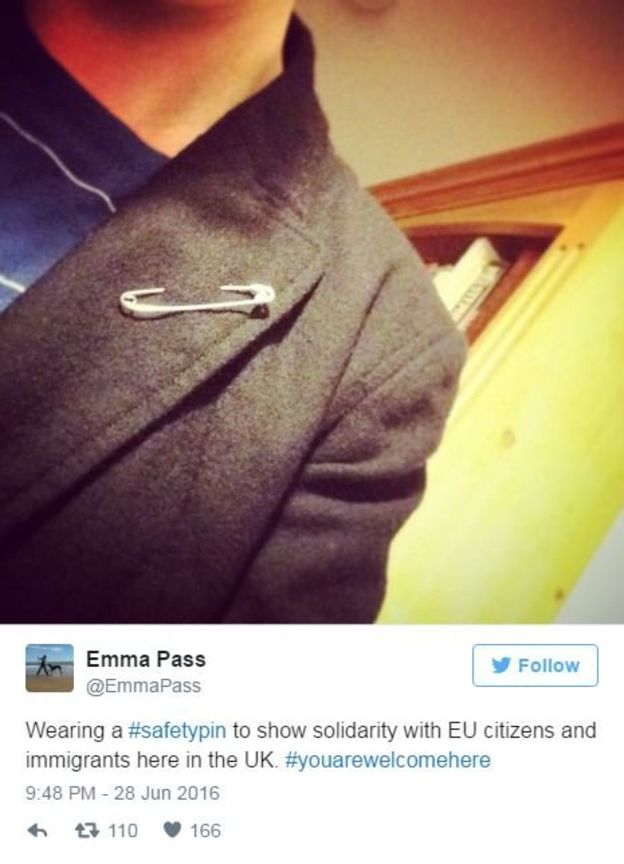 The creator of this simple, yet moving idea? And American woman living in London whom, like many others, were outraged by the treatment of immigrants. In an interview Indy100, Allison spoke about the concept of wearing a safety pin as support…
"It's simple because you don't have to go out and buy it, there's no language or political slogans involved. It's just a little signal that shows people facing hate crimes that they're not alone and their right to be in the UK is supported. I'm always having to remind people I'm an immigrant. You know, I'm white and speak English as a first language so I get a pass. They say 'oh you don't count, you're not the kind of person we're talking about."
The 'safety pin' messages didn't just impact U.K. residents, though. As of recently, Americans have taken to adding the extra accessory to their clothing.
Trump ran a campaign that encouraged hate for minorities. Hate based on race, gender, religion and disabilities to name a few. He was not shy in his verbal attack on Muslims and Mexicans. Nor did he sugarcoat his feelings towards women and war veterans. It was this attitude and race riding on the hate of so many that instilled fear into the masses. It became clear, very soon after the election, that a presidential election won from hate would only encourage the hate of his followers. And, it did just that.
In Philadelphia, Pennsylvania, swastikas were painted onto buildings, some of which were Jewish-owned businesses. Similar acts of hate occurred in states all across the U.S. It was a reaction very unsurprising of the results of the election. No one is safe, not unless you're a white male in America, that is.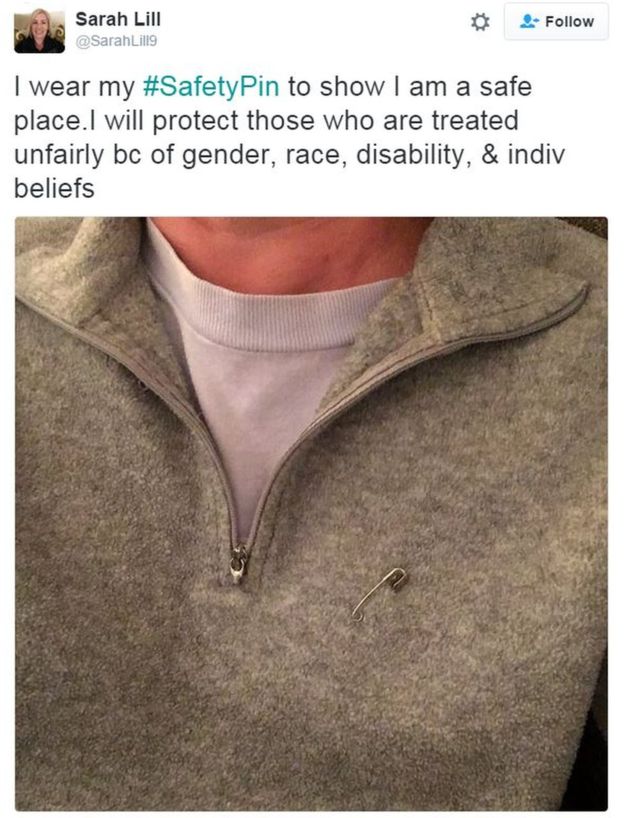 That is why the safety pins have become a symbol of protection. To some, it may seem fickle or pointless. But, its not. Its a symbol of unification in a country that is quickly being divided by hate and fear. It is a reminder that when we cannot be string there are those we can lean on. In a world that is growing increasingly dark and seemingly unbearable, people will continue to fight and stand up for what is right.
Maybe no one will notice the safety pin. Maybe it is too small and the world is moving by too fast. But…maybe there will be a moment when someone spots it walking by- someone who felt attacked, someone who felt alone or a fellow supporter. It is in those moments that we are united. When these displays of bravery and refusal to assimilate to hate catch and spread like fire. That is the kind of America we should be living in.
(Visited 74 times, 1 visits today)