Watercolor mugs are recently popping up more on my Pinterest feed. They're simple, cute, and seem fun to DIY! With the holidays getting closer, it's time for me to try my own watercolor mugs. The task seems simple: buy a mug, dip it in some nail polish, let it dry. So in the name of DIY, a friend and I are setting off to the dollar store to buy some cheap, white ceramic mugs to transform.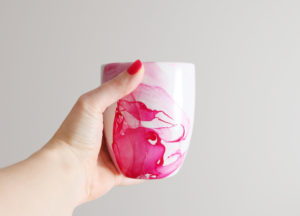 What we are getting for this project is a ceramic mug (typically white), a tub of warm water, and nail polish. First, clean and dry off your newly bought cheap mug. This is to make sure it's ready to be pretty. Next, fill the tub or bowl of your choice with decently warm water, warm enough so that it won't cool off too quickly. This next step you have to do very quickly, be ready! Pour the nail polish colors into the warm water and dip the mug in immediately after. Once the mug is covered, slowly remove it from the water. It should be beautifully marbled and ready to use after a few hours drying!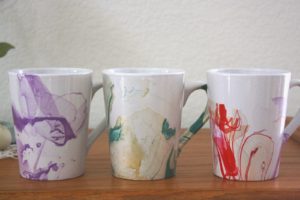 This project is easy on paper, but it actually is decently difficult. During my experience, I had to wipe down my mug with nail polish remover at least three times. My first attempts at these watercolor mugs were not pretty whatsoever. But that's wht I do it, to let you Glamorous people learn form my mistakes!
When filling the tub or bowl with water, really make sure it is warm, almost even hot. Secondly, use nail polish colors you like but won't mind being completely used up. I chose to use my three favorite colors and ending up with sad, half-filled bottles leftover. Lastly and most importantly, you have to be extremely quick to dip your mug in after pouring the nail polish into the water. For some reason, if you wait a second too long like I did, it comes out all goopy and weird.
Even though these DIY watercolor mugs weren't this easiest project on the block, they still came out pretty and were fun to make! Make your own versions and tweet us at @GlamorousPaper with photos of your creations. Go forth and be artsy!
(Visited 64 times, 1 visits today)