If you were anything like me as a kid then you know that nothing came in between you and the latest episode of your favorite Disney show. Needless to say, if Hannah Montana was on, you better believe you could find me rocking out on my air guitar to "Best of Both Worlds." As time went on, the final episodes of shows like Even Stevens and Suite Life of Zack and Cody came to a tearful end. This forced the dedicated viewers, such as myself, to move on with our lives. The other night I had a nostalgic relapse. I ended up binge watching [I'm sure an unhealthy amount of] my childhood favorites. My trip down memory lane got the wheels in my brain turning and sparked the curiosity. I had to wonder, where are these Disney stars now?
Shia LeBeou

f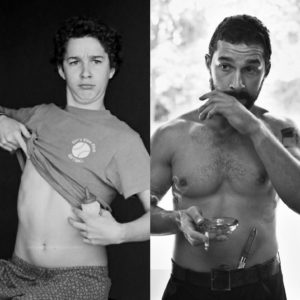 Oh the infamous Louis Stevens. Kid brother to scholar, Ren Stevens and Star athlete, Donnie Stevens. Louis is known for his immaturity and shenanigans but he's hard not to love. Even Stevens aired for three seasons and is still one of the most iconic Disney shows talked about to this day. The show practically jump started LaBeouf's career. From then on he was down a path of stardom. LaBeouf began starring in box office hits like Disturbia and Transformers which led to even bigger and more challenging roles. LaBeouf moved onto ground shaking films like Fury where he acted alongside Oscar winning actor Brad Pitt. Shia seemed to be climbing a ladder in which each rung he ascended people began to take him more and more seriously. His latest role in Lars Von Trier's film, Nymphomaniac, pushes limits and showcases LeBeouf's raw talent.
On screen the actor seems to have it all together but off screen is a completely different story. I could lay out a timeline of all of the outlandish things the former Disney star has done but let's be honest, who has time for that? So instead let's do a quick recap. In the past 3 years Shia LeBeouf has plagiarized a critically acclaimed author, announced his retirement from "the public life," worn a bag on his head stating that he is no longer famous, chased a homeless man in order to obtain the man's McDonald's, released a "just do it" motivational speech, and ran a single man marathon (144 laps) around a museum in Amsterdam…he's been a busy man.
All in all, Shia LaBeouf will always have a little piece of our hearts as Louis Stevens and there is no denying his talent. LeBeouf still remains one of the greats in the acting realm and one can only hope that the wandering thirty year old will eventually find his way.
Miley Cyrus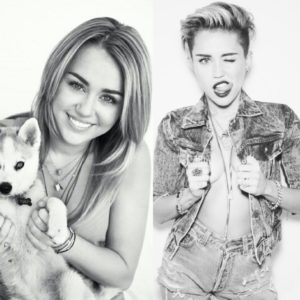 The Disney comedy series Hannah Montana followed a normal girl living a not so normal, double life. Miley Stewart was your everyday girl living in Malibu with her trusty side kicks Lily and Oliver. Miley faced everyday teenager problems alongside her annoying brother Jackson (Jason Earles) and father Cyrus (Billy Ray Stewart). This made Miley more relatable to the kids growing up watching the show. Except there was a twist…Miley was a regular kid by day and an undercover pop sensation by night! Miley's ability to showcase her musical talent on the show was a major key in sparking her career as a musical artist. After the fourth season, however, it was time to move on and during the last episode the pop star revealed her identity and the actress waved goodbye to her Hannah Montana days.
After the show, Miley Cyrus had this image of Hannah Montana that followed her around like Peter Pan's Shadow. She soon became determined to rebuild a new persona. This became evident in the 2013 release of her Album "Can't Be Tamed" which showed a much more sultry and edgy side of Miley the world hadn't seen before. The Disney star was finally finding her independence. (You Go Miley!)
Miley is known as having a romantic relationship with Liam Hemsworth, whom she starred with in the 2010 film "The last Song." Miley seemed to be in a great place, but as a pessimistic scholar once said, "all good things must come to an end." The couple sadly broke off their engagement which was announced to the public in 2013. But I'm getting a little ahead of myself.
Let me backtrack.
In 2012 Miley decided to throw a curve ball at her fans and completely shave her head. Little did we know the new hairstyle meant a new album was in the making. If her 2013 album "Bangerz" didn't make a point that she was no longer the little girl from Disney, than I don't know what would. Oh wait, maybe swinging in naked on a wrecking ball. Or possibly twerking on Robin Thicke at the VMA's…But hey, a girl's gotta do what a girl's gotta do.
Miley may have gone a little crazy with the "new Identity" brigade but with the pressure Miley has received from the public for most of her life, I don't blame her one bit. When it comes down to it, Miley is just a normal girl who lives at home with her dogs and pig. She supports organizations like City of Hope and is now a judge on NBC's The Voice. So who's to say the former wigged pop star doesn't have her life together? We must always remember, "Everybody makes mistakes, everybody has those days."
Dylan and Cole Sprouse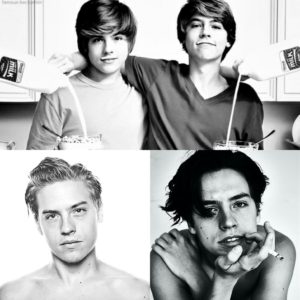 Give me a T-R-O-U-B-L-E! What does that spell?! Well, trouble. If you ask Mr. Moseby the definition of the word, he'll respond without hesitation. Zack and Cody. What better idea for a sitcom than two troublesome twins living at a hotel causing chaos left and right. The answer is none. Well, except for two troublesome twins living on a cruise ship causing chaos left and right. The Suite Life of Zack and Cody and The Suite life on Deck were absolute successes leaving Dylan and Cole Sprouse to be the richest pair of young twins in the year 2007 and 2010. Fame hit the twins like a freight train. And it didn't care whether or not the boys were ready to handle it.
11 years have passed since the Suite Life aired on Disney Channel and a lot has changed in that time. In 2010, the twins received exciting news that their hours spent tutoring on set had finally paid off. They had both been accepted to New York University. Although they did not attend until a year later, Cole successfully pursued a major in archaeology while Dylan focused on Video Game design.
During the time spent in New York, Dylan actually tried out the working class lifestyle. He became a host at a restaurant simply because he has an adventurous spirit. Dylan must have enjoyed the service industry because word on the street is the former Disney star is now opening a Meadery this fall in the heart of Brooklyn. Grab your ID's ladies and gentlemen, there's a new brewer in town. As always, keep your fingers crossed tightly for upcoming roles to arise for these talented twins. But for now we can all be proud of how far this Dynamic Disney duo has come.
So next time you find yourself taking a trip down memory lane with your childhood favorites, take a second to appreciate people and things for what they are not and not what you think they should be. Don't grow up too fast and always remember to hold on to the child inside of you. 
(Visited 49 times, 1 visits today)