2016 isn't even over yet and people are already anticipating the big films of 2017. That is with good reason. It's no wonder why so many people are hanging on the coming year's releases since this past year has delivered a number of box office hits. Let's take a look at a few of the movies that stole our focus out of sheer blind excitement!

Who doesn't love a classic romance story, especially one that was a part of your childhood? As creative as they are successful, Disney has done an amazing job recreating their classic cartoon films into live action movies. Next in line is "Beauty and the Beast (2017)". I know Disney won't disappoint because there is a cast that includes the likes of Emma Watson.

After decades of watching male-dominated movies, where comics-to-movies are concerned, the arrival of the Wonder Woman film is a long time coming. We catch a glimpse of her in the Batman vs. Superman film, but it is only an appetizer. Now we await the main course! This is a movie audiences don't mind waiting for. But many comic book and movie fans demand that at the end, perfection is delivered. With Gal Gadot as the leading character of the film, perfection won't be a hard feat to live up to.

Dunkirk is still one of the most anticipated films of 2017. It's a teaser with a trailer of little over a minute that gives away nothing eluding to the plot. Christopher Nolan, director of the "Dark Knight" triology, "Inception (2010)", "Interstellar (2014)" and other mind-blowing films, treks into uncharted territory for his latest project. So what is Dunkirk? Well, the movie is set in World War II. What happens? All we know it that it has something to do with 300,000 allied troops being surrounded by enemy forces during the evacuation of Dunkirk.

The main reason this film is so anticipated is for the failure of its predecessor, "Batman v Superman (2016)". Through this disappointment, those same fans are looking onto the newest DC comics' edition with both hope and dread. Based on the trailer alone, "Justice League (2017)" may be saved by the added comedic characters and all-around great cast. One can only hope that after so many years of waiting that director, Zach Snyder, will do the Justice League some Justice.

"Resident Evil: The Final Chapter" is a film that many moviegoers didn't see coming. That's because its been four years since "Resident Evil: Retribution (2012)". That is where the 'final chapter' picks up. If you're a fan of the franchise, you know that its one of the longest ongoing series. Quite honestly, we're sad to see it end!! But what can be more gratifying than watching main character, Alice, return to where the Resident Evil story started: Raccoon City, for a final stand against apocalyptic evil. Major girl power, bring it Alice!

Will the Pirates of the Caribbean franchise ever put an end to their legacy? Probably not. There is really no reason for the story line to cease as long as Johnny Depp is still around to play Jack Sparrow. The franchise has never managed to disappoint. They always dominates the box office with each release.  As a result, they continue dominating our hearts with the comedic but dramatic alternate universe.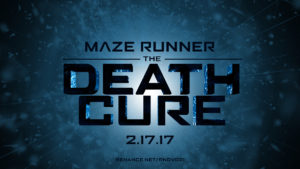 As the third film in its series, "Maze Runner: The Death Cure (2017)" is arguably the most anticipated film of the series, so far. The Death Cure picks up right after Scorch Trials. A band of loyal friends continue to evade a wicked group of scientists whom want the children to find a cure for a disease that wiped out the majority of the world. No trailer has been released, as of yet, but fans are still stumbling over themselves in excitement for the third film.
2016 may have been a year for some hot films, but 2017 is already winning and the race has yet to begin.
(Visited 41 times, 1 visits today)