Big hair, lots of bass', and don't forget that sassy grace. That is the Meghan Trainor that broke out into the mainstream music world.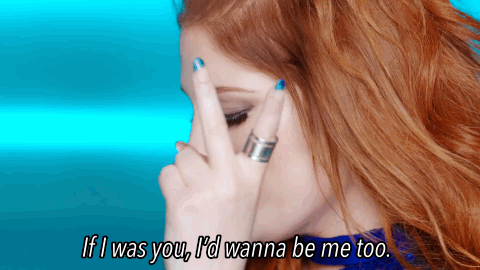 When we first saw the bubbly newcomer, she was filled to the brim with confidence in her body and in her abilities. Her journey is all the more inspiring because Meghan does not want to be your average, every day, pop star.  Her rise to success, in itself, is proof of her aptitude for breaking boundaries and overcoming social expectations.
Meghan Trainor was, and still is, a force to be reckoned with.
If you think the pop princess's legacy revolves entirely around upbeat tunes, self-assured physical presence and catchy lyrics, (which created some of the last few years' most buoyant, dance-worthy tunes) think again.
In Meghan's new song, "Better," she shows us the truth depth of her talents. It takes a dark and dramatic turn- one I never saw coming after all her feisty, hip-popping songs. "Better" reveals a side that she has never shown us.
After watching the music video, we can all now see that she's damn good at tapping into that dark beauty. The "Better" music video, Meghan takes that beautiful darkness another step forward. Gone is the Meghan Trainor with a sassy smile and a twinkle to her eyes. In her place is a troubled young girl with the weight of the world on her shoulders.
In the beginning, the video opens at a county jail. It shows a grandfather, played by Beau Bridges , calling his granddaughter, played by Meghan Trainor, to pick him up. When we get our first look at the young hairdresser, she seems broken and distant, a stark contrast to the Meghan we all know and love.
But, it only gets more dramatic from there.
As the plot of the music video unfolds, we watch as Meghan's grandfather continues down the path of self-destruction and alcoholism. If that weren't enough, he is constantly bringing his loyal granddaughter down with him. She gets caught up in the constant game of rescue and recover. Meghan's character is always there when she is needed despite her obvious frustrations and exhaustion. However, at the end of the music video we see the drama reach an all time high. Meghan's character's anger over her inability to cure her grandfather's addiction overtakes her.
Finally, Meghan's character decides to cut the ties that bind them together when her grandfather attempts to make amends. His efforts come too late to do any good when the cops show up to take him away. His granddaughter won't be able to save him this time.
So, it's a sad ending to a really sad story. Its not the "aw, that's cute sad." Rather, its that uneasy feeling of your heart dropping into your stomach and goosebumps forming on your flesh type of sad. It isn't a song you'll soon forget, and neither is Meghan's remarkable performance.
If I had any doubts about Meghan's musical diversity or her willingness to shed light on the darker corners of her mind, they've been laid to rest. She killed it.
Just remember, as much as we love celebrities and follow them over social media, etc. we never really know every side of them until they want us to. Maybe, we haven't seen everything of Meghan Trainor yet. But, if what she's still hiding is anything like "Better," I'll wait patiently to be amazed yet again.
Comment below and let us know how you felt about Meghan Trainor's "Better" or another artist's music video that exposes the dark beauty in humans. Or even tweet at us (@GlamorousPaper) artist's music videos you'd like to see us write about! Have a glamorous day and be sure to love yourself inside and out!
(Visited 71 times, 1 visits today)