In case you missed the 25th MTV Movie Awards last Sunday (4/10), here's a quick rundown of the winners and some of the exciting, most-talked-about moments from the show.
2016 MTV Movie Awards Winners:
Movie of the Year: Star Wars: The Force Awakens
True Story: Straight Outta Compton
Documentary: Amy
Best Female Performance: Charlize Theron — Mad Max: Fury Road
Best Male Perfomance: Leonardo DiCaprio — The Revenant
Breakthrough Performance: Daisy Ridley — Star Wars: The Force Awakens
Best Comedic Performance: Ryan Reynolds — Deadpool
Best Action Performance: Chris Pratt — Jurassic World
Best Hero: Jennifer Lawrence — The Hunger Games: Mockingjay – Part 2
Best Villain: Adam Driver — Star Wars: The Force Awakens
Best Virtual Performance: Amy Poehler — Inside Out
Ensemble Cast: Pitch Perfect 2
Best Kiss: Rebel Wilson & Adam DeVine — Pitch Perfect 2
Best Fight: Deadpool (Ryan Reynolds) vs. Ajax (Ed Skrein) — Deadpool
Take a look at the other nominees and watch the acceptance speeches here!
The Wow, The Meh, and The Cringey
The MTV Movie Awards has never been one to take itself too seriously. It's for sure no Academy Awards or Golden Globes, especially with its emphasis on flashy effects, big-budget blockbusters, and younger audience appeal. To kick it off this year, MTV decided to host the awards outdoors on the Warner Bros. studio lot in Burbank, CA as opposed to the traditional theater venue, a risky move that was ultimately fun and innovative. Nevertheless, sometimes it outdoes itself in jaw-droppers and head-scratchers. Here are few of the most exciting moments of the night, whether spectacular or not.
WOW: Co-Hosts Dwayne Johnson and Kevin Hart Recreate Mad Max in the Coolest Entrance Ever
https://twitter.com/MTV/status/719487689595031553
MEH: Cursing Up a Storm and D*ck Jokes
The hosts never shied away from throwing in a swear every now and then, dropping F-bombs left and right. One of them being in reference to Leonardo diCaprio and his character's encounter with a bear in The Revenant. Don't watch with youngsters if you want to keep them pure.
https://twitter.com/MTV/status/719498998365573121
CRINGEY: Teen Moms Joke
Zac Efron, Adam DeVine, and Anna Kendrick participated in a bit that at best falls flat and at worst makes fun of teen moms and MTV's show 16 and Pregnant. In an effort to promote the three actors' upcoming movie, Mike and Dave Need Wedding Dates, the involves Anna setting up a dating audition for the two guys, but instead of the girls she picked out coming on stage, actors pretending to be pregnant teens come up instead. Like DeVine's expression throughout the bit indicated, this joke was just distasteful.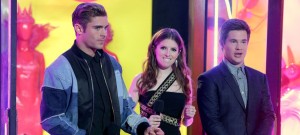 Lots of other fun things like Alexander Skarsgård presenting an award pantsless, Rebel Wilson and Adam DeVine's kiss, and The Lonely Island's jiggy Will Smith Tribute happened too, but we'll forever be scarred by that awful song about Leo and the bear.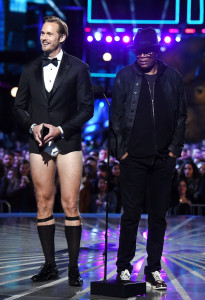 https://youtu.be/shSDylG1MoQ
https://twitter.com/MTV/status/719585839232065536
Happy MTV Movie Awards everyone! Did you guys watch? What were your thoughts? Let us know in the comments or on social media using #GlamorousPaper
(Visited 61 times, 1 visits today)