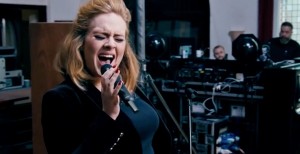 She had us at "Hello" and now she has a new song that will have you feeling nostalgic.
Adele's album "25" is set to be released this Friday following up her album "21" that was released four years ago. With Adele selling more than 11 million copies in the U.S. of her previous album we can all anticipate her new album will be just as big. "Hello" has already hit number one on the Billboard charts and has stayed their for the last three weeks beating out Justin Bieber's album "Purpose" and One Direction's album "Made In The A.M" both released last Friday.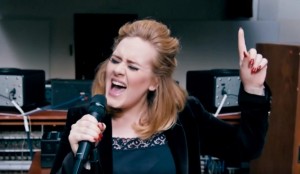 The 27-year-old mum's new single titled "When We Were Young" is a live recording that took place at The Church Studios in London. Dressed in a black, velvet blazer and hair pulled back the soul-singer is only accompanied by a small band and a few background vocalist.
Adele perfectly executes every note (as usual) and gives us a soaring chorus fully equipped with her signature finger wag. She even shows us her personality at the end as she rips the microphone from the stand like only true divas do. She blushes and comments, "It's a whole new me!"
Check out the video above and tell us what you think using the hashtag #GlamorousPaper or the comments below!
Related Articles:
Adele's New Single "Hello" Is Here!
Adele Gets Emotional In Open Letter To Twitter
Sia's New Song Was Originally for Adele
Sunday Paper: November 8, 2015
(Visited 323 times, 1 visits today)