Zendaya has yet again shown us why she is a power feminist!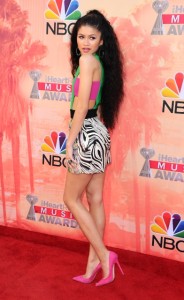 The 19-year-old former Disney star has proven time and time again that she isn't afraid to confront Hollywood's standard of beauty. Zendaya recently posed in Puerto Vallarta for Modeliste Magazine and this past Tuesday she sent the edits back that appeared to have photoshopped her hips and torso to appear thinner.
Zendaya immediately took to Instagram and posted the photo with the caption, "Had a new shoot come out today and was shocked when I found my 19 year old hips and torso quite manipulated. These are the things that make women self conscious, that create the unrealistic ideals of beauty that we have. Anyone who knows I stand for honest and pure self love. So I took it upon myself to release the real pic (right side) and I love it 😍😘 Thank you @modelistemagazine for pulling down the images and fixing this retouch issue."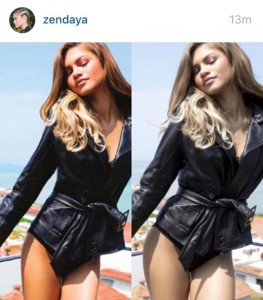 The Editor-in-Chief of Modeliste Magazine, Amy McCabe, said the images would be removed and be replaced with the unedited version.
"In light of our not-yet-released November issue, with Modeliste's Cover Girl, Zendaya and the swirling controversy in regards to any re-touched images, I am compelled to publicly address this situation which was brought to my attention yesterday, personally by Zendaya. Upon review of the final edited images which had been submitted to us by an independent editing company, together, as a collaboration between myself, Zendaya and her parents, we concluded that the images had been retouched to an extent that was not acceptable and not true to the values and ideals we represent and promote in our publication. I, therefore, made the executive decision to immediately pull the issue in order to have this rectified and have the images restored to their original, natural state which will reflect the true beauty and radiance of Zendaya, McCabe said in a statement on the Modeliste Magazine website.
We are proud of Zendaya for breaking Hollywood's standard of beauty and showing women that they can be beautiful in whatever skin their in!
Did you know that Barbie gave Zendaya her own doll? Check it out and tell us what you think by using the hashtag #GlamorousPaper or the comments below!
(Visited 182 times, 1 visits today)