Take a look at the top stories in entertainment and pop-culture that made this week's Sunday Paper!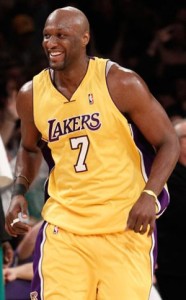 ICYMI: This has been an emotional and physically draining week for the Kardashian-Jenner clan after the recent discovery of former Los Angeles Lakers player Lamar Odom was found unconscious in a brothel in Las Vegas.
Reports claim that the former NBA player was found unconscious due to a drug overdose that lead to him being hospitalized in a comatose state since Tuesday. Sources from inside the hospital said, "virtually every drug imaginable was found in his system."
Sources also confirmed that Odom suffered from some brain damage, but the extent of the damage wouldn't be known until he was conscious. Well wishes and prayers were sent out for Odom and his family who were all at his bedside. Khloe Kardashian, his legal wife, was reported to not once left his beside and since their divorce has not finalized yet she still has the authority over his end-of-life care.
Odom came out of the comatose state Friday morning and is said to be making a "miraculous recovery." Although Odom is breathing on his own and "neurologically intact" the extent of any brain damage can not be determined until he is fully awake. As of now Odom remains on dialysis due to a kidney failure and is said to have suffered from a "ischemic stroke" which is a blood clot that prevents blood flow to the brain.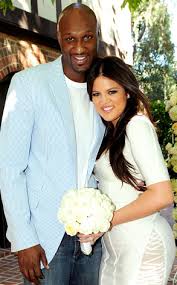 Odom's first words to Khloe were "Hey Baby" and gave her a thumbs up. The couple first met back in 2009 and married after only one month of dating. They appeared together on their own reality television show "Khloe & Lamar" which showed visible signs of an unhealthy relationship. After four years of marriage Khloe filed for divorce in Dec. of 2013 and they both signed their divorce papers in July of 2015.
Doctors are keeping a close eye on Odom's condition and for more updates you can visit eonline.com
One New York Principle has had her position "reassigned" after appearing in a rap video.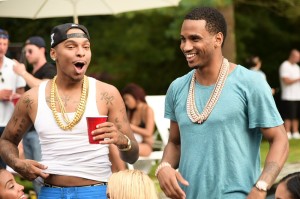 Southampton School District recently discovered their Assistant Principle, Esther Adler-O'Keefe, played a minor role in rapper J.R. and r&b singer Trey Songz's music video for "Best Friend." Adler-O'Keefe plays a minor role as a wife who is vacationing with her husband and leaving her home to be watched by J.R. The video features bikini-clad women, provocative dancing, drinking and several f* bombs.
"It has recently come to our attention that a member of our administrative staff appeared in a music video. The video in question showcases behaviors and language use that is not promoted by the Southampton School District. In fact, we actively teach our students the importance of good character and making smart choices. Additionally, this is not representative of who we are as a district nor of our students and staff," Supt. Scott Farina wrote in an email to parents, according to Newsday.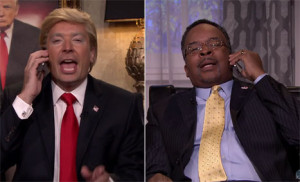 Jimmy Fallow teamed up with David Alan Grier to portray Donald Trump and Ben Carson in a "live phone call" during the Democratic debate hosted by CNN.
While the clip does cut to real footage of the debate it adds commentary from the "politicians." Trump (Fallon) gave us exactly what you would expect from the GOP front runner which are tons of pompous and snarky remarks in regards to the candidates performance.
Carson (Grier) instantly started with jokes saying, "Look Donald, the old angry muppet is talking," referring to Democratic candidate Bernie Sanders. "I don't get this guy all he does is yell. Do we really need a president who does nothing but yell?" Trump (Fallon) replied putting emphasis on the yelling.
Democratic candidate Hillary Clinton was asked if she wanted to comment after Lincoln Chaffee said she shouldn't be president because of her email scandal and she answered with a very simple "no," which Trump commented with "Yasss Queen."
Fallon and Grier go on poking fun at each of the presidential candidates and reiterating how boring the debate was. This isn't that far off from Donald Trump's actual live tweets from debate.
Check out the entire clip below!
(Visited 65 times, 1 visits today)