Here's a look at a few top stories in pop culture and entertainment news in your Sunday Paper!
Old time pals Justin Timberlake and Jimmy Fallon teamed up on "The Tonight Show Starring Jimmy Fallon" and what transpired is absolutely phenomenal. These two started performing the "history of rap" back in 2010 and since then they have only gotten better covering many of raps greatest lyricist. Their sixth installment covers over 30 years of rap music that leads to well known songs today. Check out their set list and the video below!
R. Kelly & Jay Z – "Fiesta"
LL Cool J – "Rock the Bells"
Whodini – "Friends"
Slick Rick & Doug E. Fresh – "La Di Da Di"
Public Enemy – "Fight the Power"
N.W.A – "Straight Outta Compton"
Salt-N-Pepa – "Let's Talk About Sex"
MC Hammer – "U Can't Touch This"
DJ Jazzy Jeff & The Fresh Prince – "Summertime"
Wu-Tang Clan – "C.R.E.A.M."
Notorious B.I.G. – "Mo Money Mo Problems"(feat. Puff Daddy & Mase)
Snow – "Informer"
Nelly – "Country Grammar"
Bone Thugs-n-Harmony – "Crossroads"
R. Kelly – "Ignition (Remix)"
Chris Brown – "Look at Me Now" (feat. Lil Wayne & Busta Rhymes)
Kendrick Lamar – "Bitch Don't Kill My Vibe"
Drake – "Know Yourself"
Big Sean – "I Don't Fuck With You"
Jay Z & Kanye West – "Otis"
Fetty Wap – "My Way"
Ace Hood (feat. Future & Rick Ross) – "Bugatti"
Beastie Boys – "Fight for Your Right"
One Youtuber has Sam Smith feeling some type of way according to Instagram. The "Stay With Me" singer took to Instagram earlier this week and posted a photo of the cover for YouTube singer Troye Sivan's new single "Wild" with the caption, "My boy @troyesivan his voice does things to my body."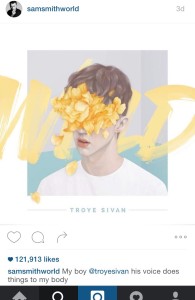 I guess Smith is on to something because the song is super catchy and Sivan does have a great voice. The song is starting to get super popular and has over two million YouTube hits on the music video. Give it a listen and let us know if this song makes you feel wild.
Missed a blog post this week? No worries, we got you covered!
Sunday Paper: September 6, 2015
Sunday Paper: September 6, 2015
Culture Wars: Alaskan Natives Restore Mt. McKinley's Original Name
(Visited 94 times, 1 visits today)