* Some videos posted may have explicit content *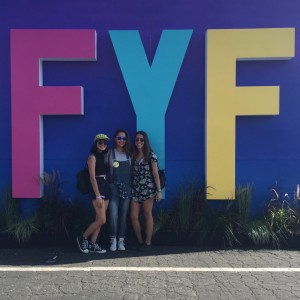 On August 22nd and 23rd, 2015, at Exposition Park in Los Angeles California, FYF hosted an event attendees would not forget. (Just typing that statement, I can hear some festival goers say, "It wasn't better than last year," or "It was better when FYF first started out.") Yes, on its 12th year now, FYF may have had some more lively years, but this year was one for the books. FYF was equipped with captivating artists, mesmerizing sounds, the friendly people of LA, and delicious food. Before I get into all the exciting parts of FYF, let's take a moment to thank Sean Carlson, the founder of FYF, for introducing the world to FYF in 2004.
Preparation 
Before I enter any festival, I have to have the essentials that help guarantee a decent day out. First and for most, always check the weather. Just because there are stormy clouds in the morning, it doesn't mean it will be a jacket kind of day. Clouds clear, and you don't want to pass out while watching your favorite artist. Remember fashion kills, but don't let it kill you! After you check the weather, be sure to dress appropriately, or don't; festivals are outlets for expression, so use them to your advantage.
If you aren't one for backpacks or anything of that matter, still consider a Camelbak. My small Camelbak  holds about 1.3 liters, and lasts me most of the day. Depends on the festival, but I've never had to fill it up more than three times in one day. Stay hydrated everyday, but especially on festival days!
Finally just make sure you bring sunblock, a portable charger, a towel, comfortable shoes, chapstick, and cash.
F@ck Yeah Festival
Okay, sorry for beating around the bush. It is now time to fill you in on the amazing weekend I was able to share with everyone who went to FYF.
DAY I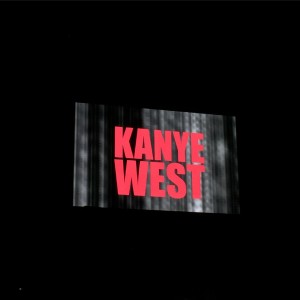 Who said, 'Boys Don't Cry?' Because by the time FYF was around the corner I was Balling. Frank Ocean was originally supposed to drop his new album in July, and grace us with his presence for Saturday's headlining performance, but for personal reasons Ocean dropped out of delivering both. Not to worry, because if LA can't get Frankie, we get Kanye West. Yes, Yeezus stepped in to give the community of FYF a show they would remember. West knew exactly how to get the crowd fired up, bringing out Rhianna for 'FourFiveSeconds,' and 'All Of The Lights.' West also brought out Travi$ Scott (Travis Scott), to perform 'Upper Echelon,' and 'Antidote.'
Christian Garcia, a festival goer, stated, "Aside from his sick stage setup and his crazy live performances, Kanye honestly threw one of the most fun shows I've been to in a while. Rowdy, but everyone was enjoying it."
Saturday consisted of many talented artists, and I had the honor to catch some of their performances. I have videos of some of them in the video links below, but again my camera skills are atrocious when people are going crazy next to me, so I apologize in advanced for my crappy videography skills. Anyway, Saturday consisted of artists such as Tennis, BADBADNOTGOOD, Kaytranada, Shlohmo, Flying Lotus, The Drums, Chet Faker, Bloc Party, Purity Ring, Run The Jewels, and many more. I personally only heard Tennis while walking into the festival, and only saw BADBADNOTGOOD, Kaytranada, Shlohmo, Chet Faker, and Kanye West. For the artists I did have the opportunity to catch, they put on a show. BADBADNOTGOOD shared a jazzy performance, and captivated their audience with covers of hip-hop songs such as 'Lemonade,' by Gucci Mane. Kaytranada threw a dance party inside the arena right after BBNG, and I could say with confidence, he made everyone dance their problems away. After, I left to the Lawn stage to catch a glimpse of Shlohmo. The LA native artist performed hits off his album, 'Dark Red.' I stayed the whole show because it was easy to get lost in the artist's mesmerizing synths, and electrifying  guitar. I caught up with a fan who stayed to watch Flying Lotus in the arena.
Carlos Maldonado, from Burbank California, was struck with, 'awe,' as he listened and watched Flylo's psychedelic performance. When asked about his experience at FYF he said, "Kanye, Kaytra, Flylo, Flume, and Death Grips were my favorite performers because just listening to familiar songs live, and seeing them live gives the audience an indescribable experience."
To sum up day one, Chet faker brought out the gorgeous Banks to help him serenade the crowd with their  hypnotizing vocals as they performed, '1998,' and of course, Kanye proved once again that he knows how to put on a show. The whole day was filled with talented artists and great music. The venue was big, but had enough free water fill up stations and convenient medical tents just in case fans were feeling under the weather. It was a non-stop party, even when walking from stage to stage. Friendly people saying "hi," or complimenting clothes kept the spirit of camaraderie alive when trying to reach the next artist.
Below I have attached a video of Kayne performing Black Skinhead and provided some links to other videos I recorded on my phone at FYF. I recommend checking these out, but I apologize for the quality. I know you can find better videos online, but I like to think that mine are engaging. Flying Lotus video shot by Carlos Maldonado.
All Day- Kanye West , Black Skinhead- Kanye West , FourFiveSeconds- Kanye West ft. Rhianna, Chet Faker, Shlohmo, Shlohmo pt.2,  Flying Lotus
DAY II
The attitudes and weather was no different; still friendly and still hot. Performances from Toro Y Moi, Neon Indian, Nicolas Jaar, Flume, MAC Demarco, HEALTH, Death Grips, D'Angelo and The Vanguard, Morrissey, and FKA Twigs, left the crowd with a satisfying yet empty feeling. The emptiness coming from the fact that FYF is over.
Jared Bitoon, a festival goer, said,"Flume's visuals were dope, especially during, 'You and Me.' It felt like Flume was really being intimate with the crowd." Jared went to comment on how Flume was his favorite performance of the weekend. Flume is always a treat to watch live, but this time he outdid himself bringing out the beautiful Lorde to smile and dance to her song he remixed, 'Tennis Court.' He also brought out Andrew Wyatt, and Marcus of Collarbones. "He makes the intimacy level of the crowd very enjoyable," as Jared pointed out.
Though I did not catch Mac Demarco, I heard his show was a bit rowdy and there was mosh pitting. Mosh pitting could be fun,  but sometimes too much for festival goers that are trying to just enjoy the show. So just be respectful if you like to get crazy and let the music consume you. Talking about mosh pitting, Death Grips brought the crowd alive with their insane performance. Their experimental hip-hop sound gets the listeners attention in an intimidating, yet intriguing way. Death Grips bring a punk element to their music, and just watching them intensified my respect for the genre.
"FKA Twigs ended my summer perfectly," Sydney Yatco laughed as I asked her how FKA performed Sunday night. As the summer season is winding down, FKA channeled the intimate vibes of her audience and gave them a show they would not forget. "I feel like I paid $150 just to watch Twigs perform. That's how amazing she was!" Sydney ended.
After all the music and positivity throughout the weekend, if I may paraphrase Sydney Yatco, FYF was a great way to end the summer. Share your FYF experiences with us, and express what you enjoyed about the festival.
Below is the video of Flume ft. Lorde and links to other videos I recorded on my phone at FYF. I recommend checking these out, but I apologize for the quality. I know you can find better videos online, but I like to think that mine are engaging. FKA Twigs video was shot by Sydney Yatco.
Flume ft. Lorde , You and Me Remix- Flume, FKA Twigs, Toro Y Moi, Death Grips
Did you love FYF Fest 2015 as much as we did? Will you be going next year? Are you big festival goer? Let us know your thoughts in the comments below or on Twitter using #glamorouspaper
(Visited 124 times, 1 visits today)