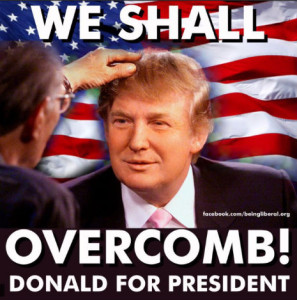 We all know that the role of president needs major political experience. However with the current monetary support needed for a successful presidential campaign increasing, are billionaires the only ones now eligible to run? This month, billionaire and famous businessman, Donald Trump came out to the world announcing his latest project: running for president. His future however, much like hair, does not look great. After his announcement speech, Trump was attacked by the media abut several statements he declared. Among some of the many criticisms, the most notable from his speech were the racist remarks about his thoughts on the immigration policy, specifically towards Mexico:
"The U.S. has become a dumping ground for everybody else's problems. … When Mexico sends its people, they're not sending their best. They're not sending you. They're not sending you. They're sending people that have lots of problems, and they're bringing those problems with us. They're bringing drugs. They're bringing crime. They're rapists. And some, I assume, are good people".

This anti-immigration remark seems to be inherently ironic as the man has often prided himself in the fact that he is the son of an european immigrant. Gladly, however, the people of the media are not afraid to shame Trump back into his place. The famous Trump quote "You're fired!" seems to have finally come back around. NBC, Univision and now Macy's have shown their zero tolerance for the racist remarks and have decided to end their relationships with the billionaire by canceling his Miss Universe/ Miss America pageants and also his role in the tv show, "The Celebrity Apprentice". Macy's has also released a statement saying that they will stop selling Trump merchandise in their department stores. Sadly, tough guy Trump does not seem to be the least fazed by this. In classic, trump-style, he has decided to sue Univision for $500 million for canceling his pageant shows. Doesn't this seem like a child-like reaction? We think so.
In another highly criticized remark, Trump flaunts his wealth by mentioning his $4 billion dollar value in his presidential campaign speech. He later states one of the reasons he is running is to prove it to America that Trump himself is successful:
'But they all said, a lot of the pundits on television, "Well, Donald will never run, and one of the main reasons is he's private and he's probably not as successful as everybody thinks". So I said to myself, you know, nobody's ever going to know unless I run, because I'm really proud of my success. I really am.'
So Donald Trump is running for president as a publicity stunt? As far as I'm concerned, Trump is just another running joke in this presidential campaign. Among others, Trump has been recognized repeatedly by comedian Jon Stewart on "The Daily Show" as he recounts his many campaign blunders. One of which was the fact that supposedly, after giving his announcement speech, it came to the media's attention that the Trump team was still missing vital documents in order to become officially nominated. However, finally, a week later on June 22nd, documented evidence shows that Donald Trump is now officially in the running.
Still thinking Donald Trump is a wise choice for America? In an interview with "State of the Union" host Jake Tapper, when pressed about his stance on gay marriage, Trump stated that he favors "traditional marriage". However, he came out looking like an oaf when asked about how "traditional" his last three marriages were. He foolishly commented back that those questions "did make a good point".
So there you have it, America. Donald Trump for president: racist, homophobe, and boastful billionaire. Who will you vote for?
Let us know in the comments what you think about Trump and his campaign platform by using the hashtag #glamorouspaper.
(Visited 212 times, 1 visits today)