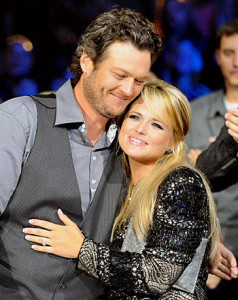 There will most likely be some breakup songs in their future. Country music's biggest couple, Miranda Lambert and Blake Shelton, announced they were separating on Monday, July 20.
"This is not the future we envisioned," the said in a statement to Us Magazine. "And it is with heavy hearts that we move forward separately. We are real people, with real lives, with real families, friends and colleagues. Therefore, we kindly ask for privacy and compassion concerning this very personal matter."
The superstar pair was married four years ago in a Texas barn. Since then, they have been plagued by rumors of infidelity and a possible breakup. However, they always adamantly denied these allegations. In fact, Miranda previously said that she never planned to divorce and viewed marriage as a lifetime commitment. The couple was not that fortunate though.
Rumors began to swirl following the announcement that Miranda had cheated on Blake, possibly with singer and actor Chris Young. Young denied these claims though, saying, "I don't normally address gossip but in this case I will," He Tweeted. "My name has been mentioned as a contributing factor in Blake and Miranda's divorce. That is totally FALSE. They are both my friends and I would not betray that friendship. Just wanted to clear that up. Love you guys – CY."
Other rumors have circulated that an affair with another man is to blame for the destruction of their marriage. Additionally, many have blamed his desire to have a family and her reluctance as a catalyst. Allegedly, their hectic schedules, which led to them hardly seeing each other, was the biggest contributor. Soon after the couple's announcement, it was revealed that their divorce agreement was already signed. Blake filed for divorce in Oklahoma on July 6 and had the documents sealed. The couple agreed to the terms laid out in their prenuptial agreement, giving Blake their Oklahoma property and Miranda their house in Nashville.
Since the announcement, Blake has Tweeted, including a message telling fans he was back at work on NBC's The Voice. Meanwhile, Miranda canceled a show due to illness right after the divorce filing. Additionally, she broke down crying during a performance of "The House that Built Me" which was famously a special song for the pair. The song was originally meant for Blake to sing, but he gifted it to his then-fiancé Miranda after her response to it. No matter what caused their split, country music is not going to be the same without these two as a couple.
Do you think infidelity played a role in their split? Are you sad to see this couple break up? Let us know in the comments below or on Twitter using #glamorouspaper
(Visited 81 times, 1 visits today)