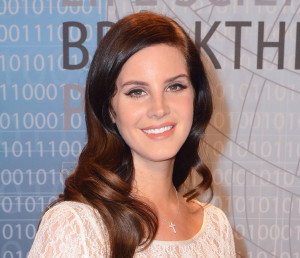 It's finally here! Lana Del Rey has been very elusive about her upcoming album, Honeymoon, which is due sometime in September. With that only two months away, and nothing off the album yet, fans were getting restless. This afternoon, however, Lana Del Rey shared her first single, the title track "Honeymoon" on youtube. It isn't the full music video yet, just the audio, but that was enough for fans. It was soon trending on Facebook and Twitter, and the rave reviews came pouring in.
The track is nearly six minutes long, but it sure doesn't feel like it. It begins with beautiful strings, and Lana's smooth voice is highlighted with a chorus at parts of the song. The melody is heavenly and will have you singing along in no time: "Our honeymoon, say you want me too, dark blue." The production is near perfect on the song– it sounds very different than the tracks off of her last album, Ultraviolence, which were raw and more rock-based. "Honeymoon" is extremely cinematic and has a jazzy flair, especially at the end. Fans are on edge for the release of the full album. Lana took to Instagram and gave us some information about it (Finally!)
"Here it is, the first and title track off my record– Honeymoon. In some ways, I feel it's where the record begins and ends… there are so many other tracks on the record, 13 others to be exact- Some with a muddy trap energy and some inspired by late-night Miles Davis drives…" It looks like, counting this song, there will be 14 tracks on the album! The other confirmed titles that we know are "Music to Watch Boys to" and a cover of Nina Simone's "Don't Let Me Be Misunderstood." Stay tuned for more info, and meanwhile, listen to "Honeymoon" below, and let us know what you think in the comments or tweet us using #glamorouspaper!
(Visited 283 times, 1 visits today)