Having a nice chest isn't the only male body part women are excited about anymore. With Magic Mike XXL in theaters now, women are getting their chance to have men wear thongs and take it off for them. We guess other male celebrities decided to join in on the action because yesterday Justin Bieber posted a rather cheeky photo of him showing off his backside while he was out boating with the caption "Look".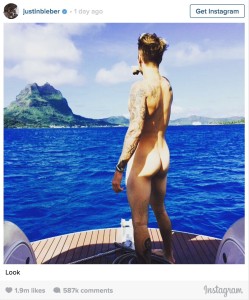 Bieber who is known for being a rule breaker has always been a prankster as we saw when he was a guest host on season nine of Ashton Kutcher's MTV show "Punk'd". He Punk'd a few of his close buds like Taylor Swift and Sean Kingston and was pretty convincing except he couldn't hold his poker face for Rob Drydek.
The image exploded with comments from the Beliebers who wanted to see him take it all off. Not surprising because Beliebers are a little…out there… it's also disturbing considering the age range of his fan base. My only advice: don't skip the squat rack, Justin.
Chrissy Teigen who has had her fair share of nip-slips and wardrobe malfunctions decided to post a…suggestive photo of her man John Legend's backside as well. Her post had no caption at all, but seeing the photo doesn't leave much to the imagination. It really takes the lyrics of "All of Me" to a whole new level!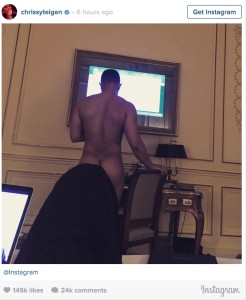 Who do you think wore their birthday suit better, Justin or John? Vote below and uell us what you think using the hashtag #GlamorousPaper or in the comments below.


Loading ...
(Visited 93 times, 1 visits today)