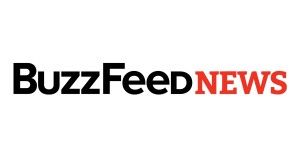 If you're anything like myself you are always trying to stay in the inner loop of things, but after trying out several different apps I have finally found an app that does the job. Whether you're interested in world news, U.S. news, sports, major breaking news, entertainment, etc. the "Buzzfeed News" app has it all.
I've gone through countless news apps in the iTunes app store and none of them fit all of the necessities. If I could take pieces of each app and create a super-news app I would, but in the meantime this app will do the trick.
How it works: The app can be downloaded in the iTunes app store for free and is compatible with iOS8 opperating systems on iPhone 5, 6, 6 plus and iPads. When searching the app on iPad select the search option "iPhone Only" to see the app. The app has an easy to use interface that is pretty self explanatory to navigate through. The bottom has two different tabs; one to catch up on news and the second to filter push notifications. On the "catch up" tab there is a brief recap of a few stories on the top of the page and below are a list of articles that can be scrolled through with a touch of a finger. On the "my alerts" tab you can select what types of news stories you would like to be notified about and there is even a "do not disturb" option to choose when you don't want to receive news update notifications.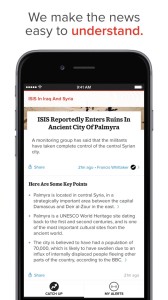 This app is different from the regular "Buzzfeed" app that has tons of pointless articles about cats and endless lists of why or why not to like something. Although those articles are funny and easy reads they get annoying after a while and we can all agree on that. This app has something for everyone if you're looking for straight news. I use the app on my iPad and have not encountered any problems with it yet compared to previous apps I've tried.
I would rate this app four stars overall which is pretty consistent with the iTunes reviews. The app has a great interface, social media sharing options, choice of filtered news based on your interest and the "do not disturb" option is perfect for stopping notifications when you're in a meeting or winding down for bed. The only thing I would suggest to improve this app is to create more filtering tabs and create a discussion option on each article for users to be more interactive. Check out the app in the iTunes app store and tell us what you think using the hashtag #GlamorousPaper or in the comments below.
(Visited 93 times, 1 visits today)