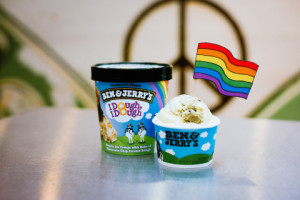 Unless you've been living under a rock, you have probably heard the new Supreme Court's ruling on marriage equality. It is now legal in all 50 states to allow same-sex marriage. Finally, same-sex love is being recognized as legitimate under the law of the Constitution. The news shocked America and all over the nation cries of happiness were shared as this love is now being fully recognized.
Many supporters came out on social media to share their response to the Supreme Court's ruling. President Obama, a long time supporter of gay marriage sent out the followin tweet on Friday: "Today is a big step in our march toward equality. Gay and lesbian couples now have the right to marry, just like anyone else. #LoveWins." Even famous celebrities such as Miley Cyrus spoke out about their position on the ruling. Cyrus exclaims, "We're finally at a place where the majority of Americans support LGBT rights and we have finally achieved nationwide marriage equality, F**k, yeah!" Religious leaders spoke out respectfully and in response to all the hate surrounding homosexuality that is religious-based. Jesuit priest James Martin posted on Facebook a beautiful post urging Catholics to stop the "twisted, crabbed and narrow tolerance which often comes in the guise of condemnations." His post focused on God's beliefs by showing true compassion, respect and true love for one another, despite their individual beliefs. In addition, it seems that major corporations are responding joyously. Particularly, Ben and Jerry's Ice Cream is responding by changing the name of a previous flavor Chocolate Chip Cookie Dough to the comical "I Dough, I Dough." The company has stated on it's website that the honorary name change has been made in celebration of the new Supreme Court decision, "With this ruling, the SCOTUS recognizes the bond of love and commitment between two people, and protects the fundamental rights and freedoms that come with it."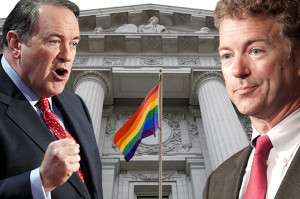 Sadly, not everyone seems to be on board with the SCOTUS ruling, former governor and Republican presidential candidate Mike Huckabee has been very open on Twitter about his opinion on gay marriage. He tweets, "This irrational, unconstitutional rejection of the expressed will of the people in over 30 states will prove to be one of the court's most disastrous decisions, and they have had many. The only outcome worse than this flawed, failed decision would be for the President and Congress, two co-equal branches of government, to surrender in the face of this out-of-control act of unconstitutional, judicial tyranny." Quite a mouthful, right?  However, it seems that Huckabee isn't the only one trying to denounce the new law of the land. Louisiana Gov. Bobby Jindal is now fighting the court's ruling calling it a fight for state rights. A 25 day rehearing period is in place for the time period.
Despite the critics, marriage equality is now the law of the land and hopefully as time progresses, the rest of the country will get on board. Seems like marriage equality will be here to stay. However, that does not mean that LGBTQ issues are gone. Just like any oppression, it is integrated into the complex web of society that only more political interference and an empathetic view of history can heal. These are baby steps, but they're getting us closer.
Celebrate with us on social media commenting below and using the hashtag #lovewins.
(Visited 70 times, 1 visits today)