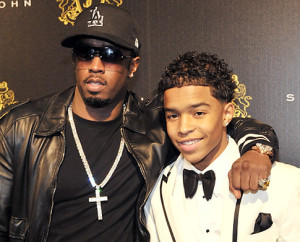 Apparently, no one yells at P. Diddy's son and gets away with it. The rapper was arrested on Monday, June 22 for allegedly attacking one of his son's UCLA football coaches and an intern with a kettlebell. However, he claims that he did so in self-defense.
Diddy was on the UCLA campus to watch his son Justin Combs, a junior redshirt defensive back for the Bruins, practice with the team. It was there that coach Sal Alosi allegedly screamed at Justin, leading Diddy to confront him in his office after practice.
According to Us Weekly Magazine, during the confrontation Diddy allegedly cursed the coach out and got into a physical altercation, eventually hitting an intern with a kettlebell in the weight room. Following the incident, the rapper was arrested at UCLA's Acosta Athletic Training Complex and charged with three counts of assault with a deadly weapon (the kettlebell), one count of making terrorist threats, and one count of battery after police watched security footage of the exchange. However, according to statements released by P. Diddy's team his actions were in self-defense.
"The various accounts of the event and charges that are being reported are wholly inaccurate," Nathalie Moar, a rep for Combs Enterprises, told The Associated Press. "What we can say now is that any actions taken by Mr. Combs were solely defensive in nature to protect himself and his son."
This is not P. Diddy's first incident with the law. In 1999, he was infamously arrested outside of a Manhattan club that he was at with his then girlfriend Jennifer Lopez after gunshots broke out. The rapper was charged with four-weapon-related charges and also bribing his driver to take responsibility for the gun. He was later found not guilty on all charges. It remains to be seen if he will fare the same in this case.
Do you think P. Diddy acted in self-defense? Could this end badly for the rapper? Let us know in the comments below or Twitter using #GlamorousPaper
(Visited 87 times, 1 visits today)