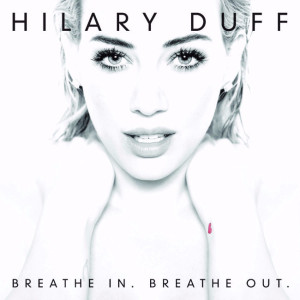 She's back! Hilary Duff's first album in nearly a decade was just released this past Tuesday and it was highly anticipated. Breathe In Breathe Out is the first bit of new music fans have had since 2007's Dignity. Hilary has definitely made quite the transformation. From having a son to dying her hair many different, vibrant colors, she is far from her Lizzie McGuire days. While this new album is absolutely catchy, I can't help but feel a little disappointed. After so much time going by since her last album, I was expecting a huge change in her sound and style; unfortunately, Hilary seems to be stuck in 2007. It doesn't seem like much maturing went on. The songs are all about failed love or one night stands or betrayal. Considering Hilary is a mother now, I thought there might be some more mature songs, but they all sound like they were written by a 22 year-old party girl. That being said, Breathe In Breathe Out is still enjoyable and there are some noteworthy songs on it.
"Sparks" was a huge hit single for Hilary, and it's a great way to start the album. It sets the mood of looking for love on an exciting night out. It's definitely a song you can dance to, as is the next track, "My Kind." This song is a little sweeter than "Sparks." The following two songs are also great to dance to. This album would be perfect for a fun night out or road trip music. Up next is the title track, "Breathe In Breathe Out," which really is a breath of fresh air. It changes the tone of the album a little bit from party to daytime. It has a great message about how to get over a failed relationship even when it seems impossible.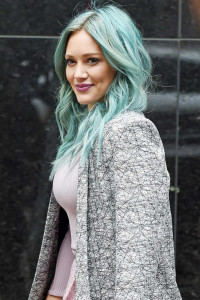 The next two songs take a bit of a darker turn. "Arms Around A Memory" is actually a surprisingly deep song, reminding us that you "can't put your arms around a memory," so it might be wiser to try to forget a relationship than remember painful things. This is definitely one of the better songs on the album. Unfortunately the next three songs are duds. "Stay in Love" is forgettable, "Brave Heart" has a strange beat, and "Tattoo" doesn't seem to fit in with any of the other songs on the album. But "Picture This" is a real standout. It has a fantastic beat and is a great summer song. The lyrics are beautiful and you won't be able to help but sing along.
Overall, the album is insanely catchy, and for a fun summer night it is perfect. If you're looking for a lot of substance, however, you won't find it here.
What did you think of Breathe In Breathe Out? Let us know in the comments or tweet us using #glamorouspaper!
(Visited 240 times, 1 visits today)