This past Wednesday, writer/actress/overall awesome human being Mindy Kaling turned 36, and to celebrate, we're highlighting some of her best projects.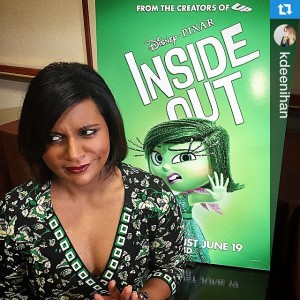 Mindy's most recent project was Pixar's latest movie, Inside Out, which is all about people's emotions and how they think. Mindy voiced the lovable yet brutally honest emotion Disgust. Some of the other voices include fellow Office alum Phyllis Smith (Sadness) and comedian Amy Poehler (Joy). The movie is getting fantastic reviews and is enjoyable for viewers of all ages. Inside Out is funny, sad, and also has a great message about dealing with stressful situations and different emotions. Go check it out.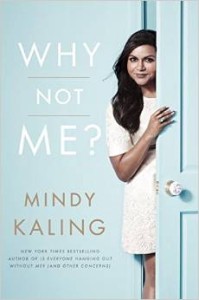 Mindy's first book, which was released a few years ago, was a huge hit. Is Everybody Hanging Out Without Me (And Other Concerns) is a delightful read. It's full of personal childhood stories, how Mindy got her start in the business, tons of The Office secrets, and a tale of how the owner of a cupcake shop really offended her one time. It's completely hilarious and witty and you won't be able to put it down. The good news is we have another Mindy book coming into our lives soon! Why Not Me? is hitting stores September 15th, so preorder your copy today! This book focuses more on Mindy's struggles in Hollywood and how she became such a hit despite all of the negative criticisms and setbacks. And though it was just announced so there's not a lot of information on it, Mindy is writing a book with co-star and ex-boyfriend BJ Novak. The pair promises the book will be very funny and interesting, so we can't wait to see what those two come up with.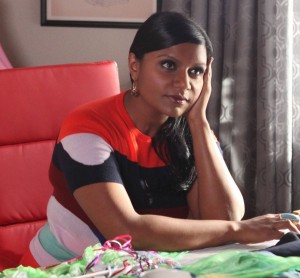 Finally, if you're a fan of The Mindy Project, you may have been heartbroken when it was announced that Fox cancelled the show. Everyone was extremely shocked and heartbroken when this happened, but the news turned good quickly. Hulu came in and picked up the comedy for several more seasons! Mindy, Danny, and the rest of the gang will all be back on your screens! Hulu has yet to announce the season four premiere date, so stay tuned for that information.
Mindy Kaling is a very talented actress and writer, and her story to success could inspire anyone. Happy birthday Mindy, and here's to hoping for many more funny, exciting things in the future!
So what did you think of Inside Out? And are you excited for Mindy's new book? Let us know in the comments or tweet us using #glamorouspaper!
(Visited 208 times, 1 visits today)