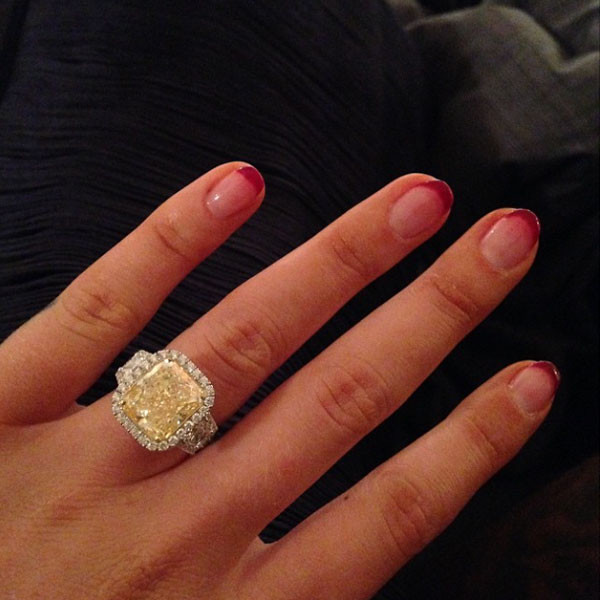 She said yes! Rapper Iggy Azalea is engaged to pro basketball player Nick Young. Ellen congratulated the couple via Twitter with a classic Ellen joke. The photo of the stunning ring was posted by Iggy on her Instagram. Rumor has it the ring cost over $500,000. Congrats to the happy couple, and we can't wait to see this wedding.

It's official. Bruce Jenner has made the transition from Bruce to Caitlyn, making her debut on the July cover of Vanity Fair. The title of the article is "Call Me Caitlyn." She also made a Twitter account this week, sending out the first tweet and gaining over one million followers in less than a day. This is the fastest any user on Twitter has gotten this many followers. Congrats to Caitlyn; we're so glad she can be herself now.

Daughter Kendall Jenner sent out a tweet in support of Caitlyn's debut. Several other members of the Kardashian clan also tweeted out their kind words and congratulations. It's good to know so many people are being supportive of Caitlyn's transformation.

Host Billy Eichner also tweeted support to Caitlyn, but added a twist of humor to it. He took this opportunity to remind us that during a concert, Enrique Iglesias was severely injured by a drone. His hand got caught in the propeller and he required immediate medical attention. The concert was paused for about a half hour, but after getting patched up, Enrique came right back out and finished performing. Now that's an artist!

We end the week with a celebration of National Hug Your Cat Day. If you have a cat, you definitely should give your little furry friend some extra attention today. If you don't have a cat, what are you waiting for?! A lot of cats at shelters need good homes. Go get a cat and hug it!
What do you think of Iggy and Nick's engagement? And how great did Caitlyn's Vanity Fair cover look?! Let us know in the comments or tweet us using #glamorouspaper!
(Visited 87 times, 1 visits today)