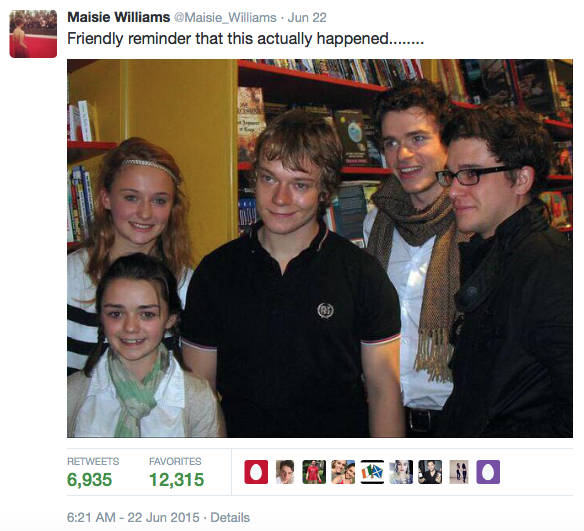 Going through Game of Thrones withdrawal already? Star Maisie Williams took to Twitter to share this adorable throwback photo of some of the cast members. People are thrilled to see the Stark siblings (plus Theon) back together again.

A big story this week is the national debate about whether or not the confederate flag should be taken down in South Carolina. Many people feel very strongly about this issue, and actor John Daley decided to chime in on the subject, quipping that the confederate flag hasn't been relevant since the Civil War. The backlash over the flag came after the horrific church shooting in Charleston, which was racially motivated. The decision about whether or not to take down the flag will be made soon.

Wednesday was Mindy Kaling's birthday, and her Office co-star Rainn Wilson tweeted her a, um, heartfelt message. "IT IS YOUR BIRTHDAY." is a reference to an episode of the beloved sitcom, where Jim and Dwight were in charge of Kelly Kapoor's birthday party and failed miserably. This tweet was a great treat for any Office fan.

If you haven't heard, Taylor Swift has been in the news all week; it all started when she would not put her latest album on Apple's new streaming service, writing an open letter explaining the decision. Apple was offering a free three month trial for their service, and during that time period, no artist would be getting paid for their music. Taylor voiced that this was extremely unfair, and this was why she was not giving Apple her music. Less than 24 hours later, Apple apologized and changed their policy, now paying artists even during the free trial period. Calvin Harris tweeted about this victory, clearly happy that his girlfriend "changed the entire music industry."

Taylor announced herself on Thursday that she was going to stream her music on Apple's service now after this change. Looks like it's a victory for everyone!
So what are your opinions on the confederate flag? And how about the crazy Apple Music/Taylor drama?! Let us know in the comments or tweet us using #glamorouspaper!
(Visited 90 times, 1 visits today)