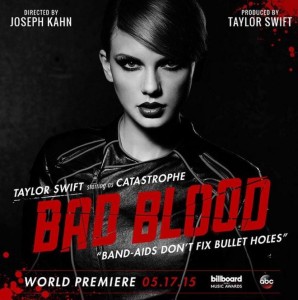 The wait is finally over! Taylor Swift debuted her much anticipated music video for her hit song "Bad Blood" at the Billboard Music Awards on Sunday Night. Swift had spent nine days promoting the video, slowly releasing posters for each member of its all-star cast.
Swift released posters on Twitter and Instagram of each one of her A-list friends who would appear in the video. The posters also included the name they had picked out themselves for the video. Swift picked "Catastrophe" for her name, while friends like Karlie Kloss and Lena Dunham picked Knock-out and Lucky Friori respectively. All in-all the video had eighteen of her friends in it, only one of whom was male: Kendrick Lamar (who added some rap verses to the song). The cast included Cindy Crawford, Hailee Steinfeld, Jessica Alba, Martha Hunt, Serayah, Ellie Goulding, Gigi Hadid, Hayley Williams, Zendaya, Lily Aldridge, Ellen Pompeo, Mariska Hargitay and Cara Delivingne. The last member to be announced was Swift's best friend, Selena Gomez.
The video was directed by Joseph Khan, who also directed Swift's "Blank Space" video and is responsible for other hit videos such as Eminem and Rihanna's "Love the Way You Lie" video. The video centered around the theme of the song, which is about a friend betraying Swift (many believe it is about Katy Perry). The video opens with Selena Gomez double crossing Swift, leading her to enter training for a battle. The video spares no expense and is very elaborate. It even has some Hunger Games flair with some of the outfits. It is during Swift's bad ass training scenes that we start to see all of the big name stars. However, each one is only in the video for about 10 seconds. Nonetheless, it is still worth watching. Swift did something unprecedented by having so many stars in one video. It shows just how well liked she has become within Hollywood. Additionally, the hype behind the video was incredible and Joseph Khan did an amazing job directing it.
Watch the video above and let us know what you think in the comments below or on Twitter using #glamorouspaper.
(Visited 140 times, 1 visits today)