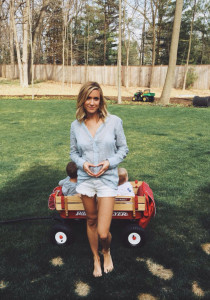 Kristin Cavallari announced on Thursday that she is expecting baby number three with her husband Jay Cutler. Cavallari and the Chicago Bears quarterback are already parents to two boys.
Cutler and the Laguna Beach alum began dating in 2010 and got engaged in April 2011. The engagement was called off in July 2011. However, the pair soon reunited and announced that they were expecting a baby. They then wed in Nashville in 2013.
The couple are parents to sons Camden Jack, born in August 2012 and Jaxon Wyatt, born in May 2014. They have previously expressed a desire to have three children together.
The announcement was made on Cavallari's app, She titled the post "Big News" and included a photo with her placing a heart on her small bump. Her younger children are seen sitting behind her in a wheelbarrow. The photo was accompanied by a caption stating "We're at it again! Thrilled to announce baby number 3 is on the way! The cutler crew just keeps on growin'!"
Do you think it will be a boy or a girl? Let us know in the comments below or on Twitter using #glamorouspaper.
(Visited 87 times, 1 visits today)