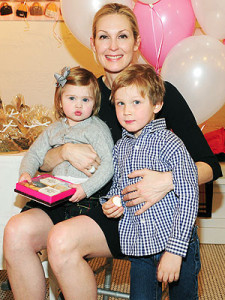 After a long and expensive custody battle, Kelly Rutherford was finally granted sole custody of her twin children on Friday, May 22. The ruling came from a California judge after six years of fighting. However, It remains to be seen if a judge in Monaco will uphold the decision.
Rutherford and her ex, Daniel Giersch have been locked in a custody battle since their divorce in 2010. In 2012, Giersch was deported from America and took the twins, Helena and Hermes, to live with him in France and Monaco. Then, an international judge determined in 2013 that Giersch no longer had to pay for the children to visit Rutherford in the US.
Rutherford went bankrupt trying to fight for her kids and visit them. She rallied support from famous friends on Twitter, including Gossip Girl costars Ed Westwick and Matthew Settle. She even received support from Kris Jenner and Kim Kardashian. Rutherford also created a petition, which quickly reached the needed 100,000 signatures for the White House to look at it. In addition to these efforts, she created the Children's Justice Campaign, which aims to help parents facing a similar struggle.
"I know it's not right," she said in an interview with Good Morning America in April. "Parents know — everyone knows it's not right. I can sit here and tell you how often I cry. I can tell you how it feels to leave my kids in a foreign country and seeing them after not seeing them for weeks on end. Not being able to bring them from school and pick them up from school, dress them, hug them, smell them."
The ruling only grants Rutherford custody during the ongoing custody battle, though. Additionally, because Giersch is living in France and Monaco, a California-based ruling is not all that is needed. It must also meet custody standards set by Monaco. It remains to be seen whether everyone will comply with the ruling. However, it is a major win and provides hope for improvement, after a long and painful struggle for Rutherford.
Do you think what happened to Kelly was wrong? Do you think she will successfully gain sole custody permanently? Let us know in the comments or on Twitter using #glamorouspaper.
(Visited 137 times, 1 visits today)