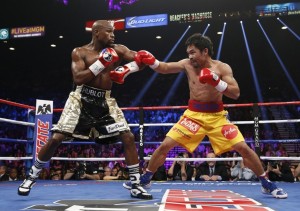 Floyd Mayweather improves his professional record to 48-0, defeating Manny Pacquiao, after a 12 round unanimous decision Saturday night at the MGM Grand Garden Arena in Las Vegas.
Didn't catch the fight? Don't worry you didn't miss much. For a fight that was coined "the fight of the century," it ended up being a big disappointment.
According to CompuBox, Mayweather landed 67 more punches and Pacquiao landed double-figure punches in only three out of 12 rounds. Two of the judges scored the fight 116-112 and the other one scored the fight 118-110.
For Pacquiao being an eight-division world champion, and Mayweather who is a five division world champion, they disappointed saturday night. It was useless of Pacquiao to go after Mayweather, when all Mayweather was doing was running away. "I thought I won the fight. He's moving around. It's not easy to throw punches when he's moving around so much…" mentioned Pacquiao. Whenever the fight would intensify, with Pacquiao getting some good hits, Mayweather would hug him to slow him down. Basically, people paid $100 to see two grown men hug for 36 minutes. Girls everywhere were tweeting "I wish my boyfriend would hug me like Mayweather hugs Pacquiao."
"It's not about size. Size doesnt matter. I fought bigger. I though I caught him many more times than he caught me," Pacquiao added. And in my personal eyes Pacquiao came to fight and he did go after Mayweather, unfortunately that was not the fight Mayweather wanted to give him.
Pacquiao left in disappointment and so did the viewers. "Money isn't everything, it's the only thing," said Mayweather. There is no secret that they got paid a HUGE amount of money (estimated between $100-$200 million), and this is a business, but let's be honest the fight wasn't worth the money.
What where your thoughts on the fight? Do you think there will be a rematch?
(Visited 104 times, 1 visits today)