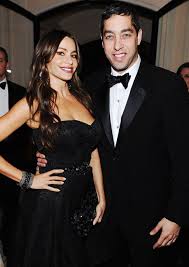 Sofia Vergara's ex Nick Loeb has apparently not thawed following their break-up. The businessman appeared a little bitter this week, as he spread rumors that Vergara was hoping to destroy embryos the couple had frozen during their relationship.
The actress and Loeb started dating in 2010, but endured a brief split in 2012. This split was said to be due to Loeb's controlling tendencies and desire to get Vergara to be more conservative. Loeb reportedly told Vergara to dress in la ess sexual manner and Vergara was reportedly embarrassed by his opportunistic ways. However, the pair soon reunited and became engaged. Their engagement lasted until they split for good in May of 2014. Sometime during their engagement, the two froze embryos in hopes of getting pregnant in the future. This was a precaution because she was entering her forties.
Since their split, Vergara has moved on to the much hotter Joe Manganiello. The two quickly became an item in July of 2014 and have been inseparable since. On Christmas Day 2014, they became engaged while on vacation. So, understandably, Vergara has no desire to have a baby with her ex-fiancee anymore.
Loeb began saying this week that Vergara wanted to destroy the embryos they had frozen. Something he is apparently opposed to. Although, why he would want to preserve the embryos of his ex, who is planning to marry another man, is still unknown. However, the agreement between the pair is that the embryos would be frozen and preserved until both parties signed off on action. If one party were to die, they would be thawed and no action would be taken.
"Vergara has never suggested that she wished to have the embryos destroyed, Vergara's reps said in response to Loeb's claims. "She has always maintained that they be kept frozen, a fact of which Loeb and his counsel have always been aware, despite Loeb's statements to the contrary. Vergara, who has happily moved on with her life, is content to leave the embryos frozen indefinitely as she has no desire to have children with her ex, which should be understandable given the circumstances."
Loeb claimed that Vergara is trying to destroy them, but claimed that he is not currently filing suit. It remains to be seen what will happen to the embryos or why he would even want them preserved.
Do you think Sofia Vergara has a right to control the embryos? Is it weird that Nick Loeb wants them preserved? Let us know in the comments or on Twitter using #GlamorousPaper.
(Visited 98 times, 1 visits today)