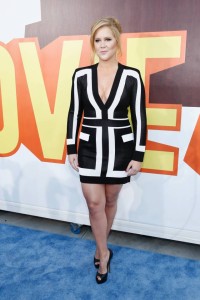 Didn't watch the 2015 MTV Movie Awards?, don't worry you didn't miss much. The show aired Sunday night on MTV and was hosted by the comedian Amy Schumer.
Although the Movie Awards are more or so of a set preview for summer movies, it wasn't very muxh entertaining, heres a recap at what went down las night.
The big winner of the night incuded Shailene Woodley as she took home 4 awards last night for her role in the film "The Fault In Our Stars." Which included the MTV Trailblazer Award.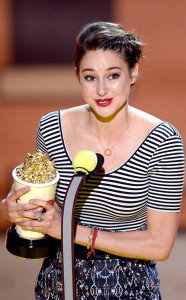 Performances of the night included Fall Out Boys to their song "Centuries," with special guest rapper Fetty Wap to his song "Trap Queen," lets just say this is a duo that does not need  to happen again. Fall Out Boys performance would have been perfectly fine with out the appearance of Wap.
The second performance of the night included Charli XCX, Ty Dolla $ign and Tinashe. Charli took the stage first, her performance included her new pop song "Famous,"  with a little rock 'n' roll, witch distinguish Charli from any other performer in a good way. However the song "Drop That Kitty," was a complete FAIL. Let's not drop that "Kitty".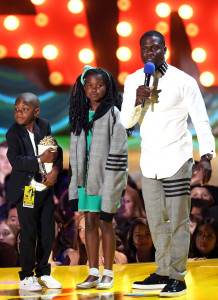 Kimmel introduced the Comedic Genius Award to Kevin Hart. While Kimmel's intro jokes we a little one-note (we get it, Kevin is short), it was adorable that Hart brought his kids onstage to accept his Golden Popcorn.
Robert Downey Jr. Accepted the Generation Award. His speech was just fine but what was just perfect was his castmates taking a knee while he accepted his award.
How about that kiss cam before the commercial break? as Amy Schumer sensuously kissed Amber Rose. Well played Amy, well played.
Here is a List of the last nights winners:
Best Male Performance
-Bradley Cooper, American Snipper
Best Kiss
-Ansel Elgort & Shailene Woodley, The Fault In Our Stars
Best Comedic Performance
-Channing Tatum, 22 Jump Street
Best Female Performance
-Shailene Woodley, The Fault In Our Stars
Best Scared-As-S**t Performance
-Jennifer Lopez, The Boy Next Door
Best Shirtless Performance
-Zac Efron. Neighbors
Best Fight 
-Dylan O'Brien vs. Will Poulter, "The Maze Runner"
Best WTF Moment
-Seth Rogen & Rose Byrne, Neighbors
Best Villain
-Meryl Streep, Into the Woods
Best Musical Moment
-Jennifer Lawrence, The Hunger Games:Mocjingjay Part 1
Movie of The Year
-The Fault in Our Stars"
(Visited 151 times, 1 visits today)