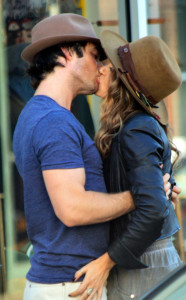 Photos have surfaced online of what is allegedly Ian Somerhalder and Nicki Reed's secret wedding ceremony. Rumor has it that the couple wed on Sunday, April 26 in Santa Monica, Ca following their whirlwind romance.
Reed and Somerhalder began dating in July of 2014 and were engaged just six months later. The two have been very public and open about their relationship, stepping out together regularly and professing their love on social media. As much as their relationship has been public, it has also been fast moving. The two moved in together in Atlanta, Ga, where Somerhalder films his show The Vampire Diaries, after just three weeks. Following their cohabitation, they became parents to two horses, two dogs and a kitten.
However, the speed of their romance was not too shocking considering the years they had spent as friends before. It was disappointing to thousands of fans of The Vampire Diaries, though. TVD fans were ecstatic when Somerhalder began dating Nina Dobrev in real life. The stars play Damon and Elena, who are in a very passionate relationship, on the show. Life started to imitate art and the two were an adorable couple for three years until their split in May of2013. The two allegedly split because Ian was ready to settle down and Nina was not.
Ian found another vampire ready to settle down in Twilight alum Reed. She was fresh off her divorce from Paul McDonald, who she split with in March of 2014 after two years of marriage. Reed and Somerhalder seem to be a good match for each other, sharing a passion for the environment, animals and each other.
Based on the photos published on fans' Twitter accounts, Somerhalder donned a white suit, while reed wore a long sleeved, backless white dress during the ceremony. The reception was held outside and attended by close family and friends. One thing is for sure, those two must have made for a gorgeous bride and groom.
Are you happy to see Ian and Nicki are finally married? Or are you still upset that Nina and Ian broke up? Let us know in the comments or on Twitter using #GlamorousPaper.
(Visited 204 times, 1 visits today)