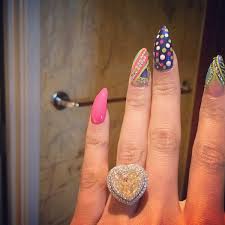 Rapper Nicki Minaj surprised fans on Wednesday April 15, 2015 by posting a picture of a giant heart-shaped diamond on her Instagram. The yellow diamond resting on her left ring finger immediately sparked rumors that Minaj is engaged to reported boyfriend Meek Mill.
Minaj sparked curiosity earlier in the day by posting a ring emoji with the caption "I'll post it later" on Twitter. Her post came after Mill posted a yellow heart on Monday, which seems to represent her gorgeous ring. On Tuesday, Minaj posted a tweet saying " I wish every night could feel like last night" seemingly referencing their engagement.
Minaj and Meek Mill were reported to start dating in February of this year following her bitter split from boyfriend of 11 years Safaree Samuels. The engagement might seem fast, but Minaj has been vocal in the past about her desire to settle down. In fact, she recently told Complex Magazine that she plans to be married and have at least one kid by the time her fifth album comes out. It looks like she is now well on her way.
Do you think that Nicki Minaj and Meek Mill make a good couple? What do you think of her ring? Let us know in the comments below or on Twitter using #GlamorousPaper
(Visited 71 times, 1 visits today)