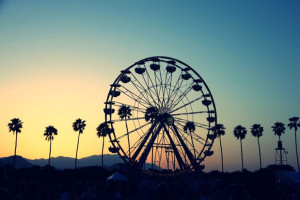 Spring marks the beginning of music festival season.  We are gearing up for Coachella kicking off on the weekend of April 10. While music festivals are filled with great music, delicious food and memories that will last a lifetime, it is important to make sure you follow some important tips on how to stay healthy and happy under the festival sun.
There are a few items that are essential to music festival survival- water, sunscreen and comfortable shoes. Bring a water bottle to keep yourself hydrated in the hot weather.  Sunscreen is a must because you will get burned and it will be very uncomfortable for the rest of the week, so just lather up!  Some girl's try to put their fashion foot forward and wear wedges or heeled booties, but I am assure you, you will regret that decision! There is a lot of walking and a lot of people dancing and jumping to the beat!  Try to avoid open toe shoes to keep those perfectly pedicured nails safe. Another couple of items you may want to bring along are a bandana or scarf to keep from inhaling dust from the dessert.  At night it can be especially windy and you won't want to be coughing up dust all night long.  There are a few great mobile apps to be sure to download before Coachella weekend.  First start by downloading the Coachella App to have access to Friend Finder, Schedule Sharing and Shuttle Tracking. Those are some of the best features of the app to help make your weekend run a little more smoothly.  If you have VIP tickets it is beneficial to download the application Reserve to book a table at some of the famous pop up restaurants at the festival.  It is worth it to have a plan of which sets are your must see shows and schedule food and bathroom breaks around it to beat the crowd the best you can.
Here's to our first Coachella update, follow our tips, have fun and stay safe! Comment below or tweet us at #Glamorouspaper!
(Visited 76 times, 1 visits today)