Everyone's favorite Disney Channel blonde is making a comeback – and killing it. Lizzie McGuire – eh hem – we mean, Hilary Duff has been out of the spotlight since 2007, and she is stepping into 2015 with new music, a new TV show, and a new outlook on her life.
Hilary recently told Cosmopolitan Magazine, "I just always want to fight for my happiness," we want you to fight for your happiness too Hil!
Hilary has had quite a journey since the release of her last album, Dignity, in 2007 (eeek!) – she took some time off, got married to Mike Comrie, they had a child – Luca (3 years old), and has since been separated and divorced. Although Hilary came in and out of a serious relationship with the father of her son, she continues to have a positive mindset. Hilary promises a deeper look into her life and all that has happened since we last heard from her in her new (not yet released) album.
Hilary recently explained to MTV, that when she began writing for her new album, the songs were very heavy – filled of love and loss – and eventually the music shifted back to her positive vibes. "I'm one for sunshine, so it's shifted a lot and it feels a lot better to me," she told MTV during a sit-down interview. Hilary filled MTV in with a few more details; the album has a lot of dance music, however; it is still very heartfelt – there is even a song for her son, Luca, called, "This Heart," (awww). "I'm excited for people to hear it," she gushed. As of now there is no set release date for the album, however; she has three singles out and we are loving them: "Chasing the Sun," "All About You" and the most recent; "Sparks."
While fans – us included – are pining for Hil's new music, we can still get a dose of Duff every Tuesday on TV Land as she plays the sassy, confident Kelsey in Darren Star's (creator of Sex in the City) new television show, Younger.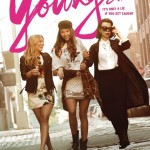 The show is cute, quirky, and very sexy. Hilary's new role truly shows old fans – and new fans – that she is no longer awkward middle school-er Lizzie McGuire, instead; she is a professional editor in New York City with an incredible drive. Hilary told Vulture, "It's nice to have a show where women are just powering together."
As if Hilary's new success is not enough to capture the media's attention – her deep-sea blue hair has had the paparazzi cameras ALL over her. She told Ellen DeGeneres that she was inspired by the ocean during a vacay with her son! LOL. We love your new look, new music, new TV show, and new vibe, Hilary. We are so excited to see all that lies ahead for you.
Welcome back girl, we missed you! Let us know if you're as excited as us to see Hilary making a comeback in the comments or on Twitter using #glamorouspaper
(Visited 349 times, 1 visits today)