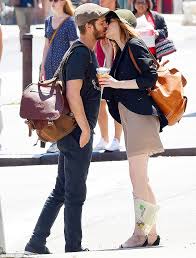 They are on a break! The Amazing Spider-man costars Andrew Garfield and Emma Stone have reportedly hit a rough patch in their three-year romance. Multiple outlets have reported that the two have decided to take a break from their once happy romance.
Garfield and Stone met on the set of The Amazing Spider-man and started dating soon after. The two remained private about their romance but were often photographed together with many PDA moments.
"It's like a dream to work with him," Stone said on Good Morning America in happier times. "He's obviously one of the greatest actors I think we have alive today, and he's also just a remarkable human being, so I love him very much."
However, the two have not been photographed together since January and Garfield was absent during the awards show season as Stone was nominated for her role in Birdman. It has been reported that the two have been fighting a lot recently, leading to their decision to take a break. Additionally, Garfield's new movie role might be to blame. He has been busy shooting the Martin Scorsese directed film Silence in Taiwan, while Stone is starring in Cabaret on Broadway. The distance was not the only problem, though. Allegedly, the work Garfield has to put into this role is taking a toll, he had to lose a lot of weight and enter a dark mental state to really embody the character. This has made it hard for the two to carry on a relationship.
Do you think this will be the end of Andrew and Emma's relationship? Do you also hope they stay together? Let us know in the comments or on Twitter using #GlamorousPaper
(Visited 78 times, 1 visits today)