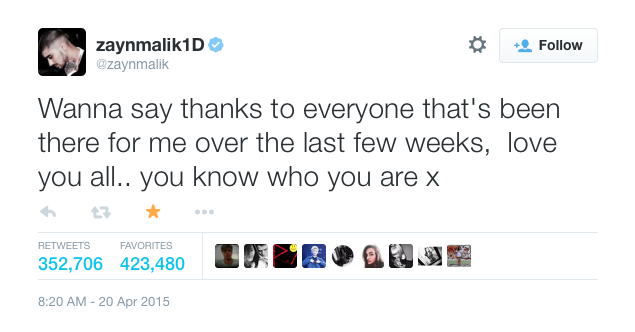 This week, Zayn Malik finally broke his silence about leaving One Direction. He made his first public appearance, complete with a shaved head, too. Zayn seems very grateful for all of the fan support, even though thousands of directioners were absolutely devastated when he announced he was leaving the band. However, it seems everyone is starting to move on from this "tragedy" and accept Zayn as a solo artist now. He is currently working on his new solo music. Hopefully there are more updates to come.

Pop superstar Lana Del Rey broke her month-long twitter silence with the announcement that she worked on an original song for the movie The Age of Adaline. This is exciting news for fans since she has not released new music since her original songs for the movie Big Eyes. She also attached a short trailer for the movie, featuring a snippet of her song. Fans are ecstatic, and many are wondering if this is a single from her upcoming album Honeymoon, which Lana has been very secretive about. There is a rumor that the full version of "Life is Beautiful" will be released today. Check out the trailer and song below:
Earth Day was this past Wednesday, and late night host/comedian Conan decided to make a quip about recycling. He wasn't the only celebrity to post about the day. Actor and environmentalist Leonardo DiCaprio was tweeting and retweeting all day about people doing good for the earth and tips for a great Earth Day.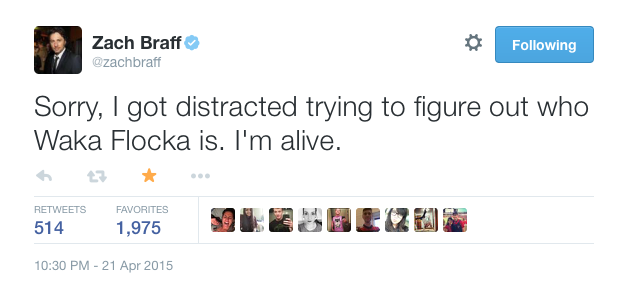 This past Monday, rapper Waka Flocka Flame announced that he was planning on running for president in 2016. Many people are in complete disbelief over this. The rapper made this announcement on 4/20, a day on which marijuana enthusiasts celebrate the drug, so it is possible this was an elaborate joke. We'll have to see what happens, but it seems like Waka Flocka doesn't have Zach Braff's vote.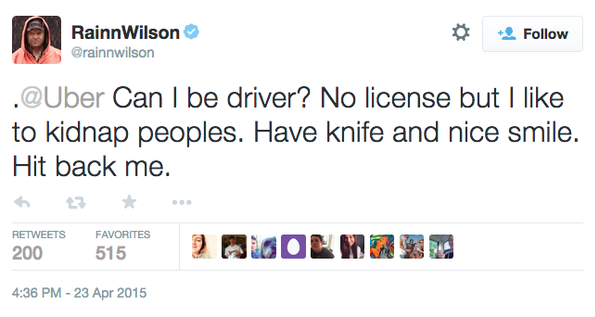 We'll end this week's tweets with a hilarious one from Rainn Wilson. Currently starring in Backstrom but best known for his role of Dwight Schrute on The Office, Rainn has always been a funny guy. I doubt his next job will be an Uber driver, though it would be a very interesting ride if Dwight Schrute was your driver.
What are your thoughts on Waka Flocka apparently running for president? And what do you think of Lana's newest song? Let us know in the comments or tweet us using #glamorouspaper!
(Visited 157 times, 1 visits today)