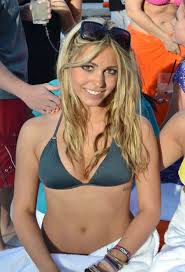 This week's Watch What happens Live ended up including quite a surprise and a blast from the past when Scott Eastwood shared that his ex-girlfriend once cheated on him with Ashton Kutcher. However, it wasn't just any ex-girlfriend hooking up with him at any time, this was Sara Leal and her friend aka the two girls who famously got naked with Kutcher while he was still married to Demi Moore.
The news reignited the 2011 story that Leal later sold to Us Magazine. Kutcher was partying on his sixth wedding anniversary to Demi Moore in San Diego at the Hard Rock Hotel. Allegedly, he then met Leal and a friend and they all ended up naked in a hot tub together. A then 22-year-old Leal spent the night with Kutcher, who she claimed to have an instant attraction with. According to Leal, Kutcher claimed to be separated from Moore at the time, something that has never been verified (my deep love for Ashton means that I definitely believe they were already separated). Regardless, Moore filed for divorce just days later and it was finalized in 2013. Since then, Kutcher has gone on to make all of my dreams come true by getting engaged to Mila Kunis and having a baby with her.
However, what was never known before was that one of the two girls from that night was actually dating Scott Eastwood at the time. It was not revealed whether or not Eastwood was dating Leal or her friend, but it is highly suspected it was Leal. Eastwood revealed this during his interview on the Andy Cohen late night show to fellow guest Jon Cryer after Cryer talked about how awkward it was working with Kutcher after dating Moore in the '80s.
"If it makes you feel any better he did sleep with one of my ex-girlfriends," said Eastwood. "But she was my current girlfriend at the time so…"
Cryer responded by taking a sip of his drink. Eastwood does not seem to hold any hard feeling though. In fact, he stated that he would shake Kutcher's hand and said he was not at all pissed about the situation.
Do you think that Ashton and Demi were already separated when he hooked up with the girls? Should Scott have not shared that? Let us know what you think in the comments or on Twitter using #GlamorousPaper
(Visited 340 times, 1 visits today)