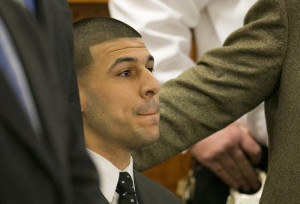 Aaron Hernandez can kiss any form of his career starting again goodbye, after being found guilty of first degree murder early Wednesday morning April 15, involving the shooting death of his "friend" Odin Lloyd back in June 2013. Hernandez now faces a mandatory sentence of life in prison without parole.
The jury, which consisted of seven women and five men, listened to more than 130 witnesses and reviewed more than 400 pieces of evidence over a month long trial. Finally, they reached a guilty verdict charging Hernandez with first-degree murder, armed assault and weapon charge.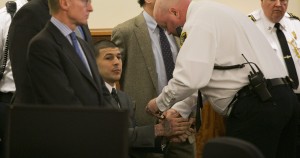 Although the former Patriots tight-end was immediately handcuffed and returned to jail, this is not the last time he will be in front of a judge. Hernandez will be back in front of a judge later on this year in Boston, to face murder charges for the killings of Daniel Abreu, 29, and Safirdo Furtado, 28.
Which where caused by a drive-by shooting that took place back in 2012, after a nightclub dispute over a spilled drink. The 25 year old athlete pleaded not guilty to the murders. We will see what awaits his future during these trials.
It is so sad to see a promising future for a young prospect athlete go down the drain. Are prayers go out to both sets of family to the Odin for loosing their son and to the Hernandez for also loosing their son also.
W
hat are your thoughts? Do You believe he is guilty?
To catch the full scoop on the trial and a video with the charges check out http://www.cnn.com/2015/04/15/us/aaron-hernandez-verdict-jury/index.html
(Visited 90 times, 1 visits today)