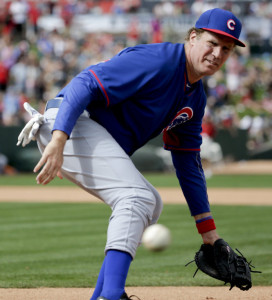 Will Farrell took the field yesterday as he played all 9 positions over 5 Cactus League games. He played for all ten teams involved which included; Mariners, A's, Cubs, Angels, Reds, Diamondbacks, Giants, White Sox, Dodgers, and Padres, in order to raise funds for Cancer for College and SU2C (Stand up to Cancer). Along with also honoring Bert Campaneris, the first MLB player to play all 9 positions in one game.
Moving from park to park via helicopter, the comidian actor traveled to the Phoenix suburbs of Mesa, Tempe, Scottsdale, Glendale and Peoria.  According to ESPN.com, the event has been filmed  for an upcoming HBO special that will air soon, along with the Funny or Die website co-founded by Ferrell.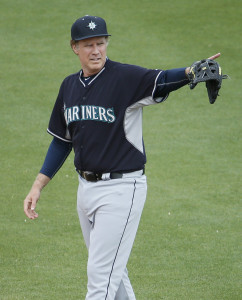 "Will is a big fan of our game," MLB commissioner Rob Manfred said, he added, "and many of us in baseball–among our clubs, players and our millions of fans–are big fans of his. Major league baseball is happy to take part in what will surely be a fun and memorable day for a great cause."
This is not Farrell first time participating in the game. In 2012 Farrell along with Zach Galifianakis threw out the first pitch at the Chicago Cubs game to help promote their new movie "The Campaign." And in 2010 Farrell pitched for Houston's Triple A Club the Round Rock Express in a game against Nashville…well kind of, being the comedian that he is, he wore a mustache in the guise of "Rojo Johnson," a temperamental Venezuelan player after throwing one pitch behind the batter he was ejected from the game.
There's no doubt that today was filled with nothing more then fun. Farrell cam to play ball and he held his own. He even took it upon himself to be the third basement coach during the Cubs and Angel's game. And what better way to encourage your batter then by holding up signs that read; "Take a Pitch", "Don't pull a muscle", "You are so handsome", and "Swing as hard as you can," great way to motivate the team I would say.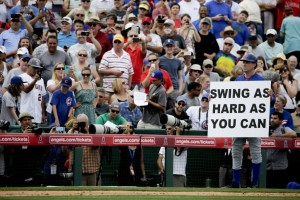 Farrell kept it fun, and it was all for a great cause. Make sure to keep an eye out for when this special airs, as well as Farrell's new film along with Kevin Hart "Get Hard," which is set to show March 27th.
(Visited 77 times, 1 visits today)