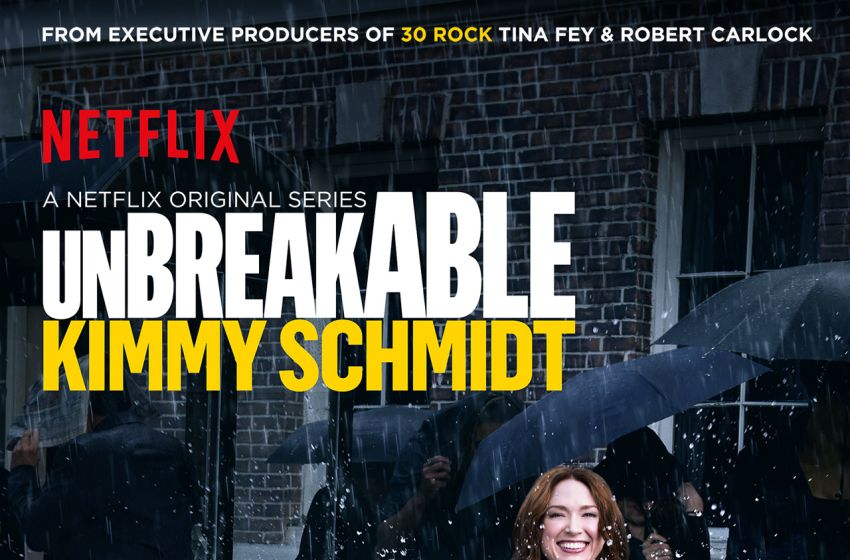 It's no secret that Netflix's original series are ridiculously good: Orange is the New Black and House of Cards are prime examples of this. Their new original show, Unbreakable Kimmy Schmidt, is no exception. The series was released in early March and the first two seasons are now available for streaming. It's getting rave reviews from the critics, such as a 95% on Rotten Tomatoes. Unbreakable stars the former The Office cast member Ellie Kemper and is written and created by Tina Fey and Robert Carlock.
The premise is hilariously twisted and unique. The pilot opens with a swat team rescuing four women who have been imprisoned in a bunker for over a decade. These women were forced into an apocalypse cult by a crazy reverend. While the other three women were brainwashed and accepted the lies the reverend told them, Kimmy (Ellie Kemper) refused to give in. When the four were finally rescued, it was Kimmy who seemed the most excited to experience the world they had been kept from. Instead of going back to her rural hometown that she hasn't seen in 15 years, she decides to move to New York City to see what the world has in store for her.
While the basis of the show sounds fairly grim, it's written so wonderfully that it comes off extremely funny. Kemper is a wonderful choice to play Kimmy, the eternally optimistic woman who still sees the best in everyone despite what she has been through. The show is incredibly bright and visually fun to watch. The energy of the city is perfectly reflected in the main character. Kemper's performance is not the only great one. Tituss Burgess plays Kimmy's gay, broadway-bound roommate who helps to educate her about the ways of this new world. Kimmy lands a job as a nanny/assistant for upper-class Jacqueline Voorhees, played by 30 Rock star Jane Krakowski, who is just as delightful as she was in the NBC show. The cast is one of this show's many strengths. It's also incredibly well-written. Almost every joke completely lands, leaving you out of breath because you're laughing so hard. And don't be fooled; while the show is mostly a light comedy, it also portrays some really wonderful messages, such as getting over issues from your past and learning to love yourself. It's also very refreshing to have a mostly female cast, something that is very rare, especially in comedy. Unbreakable Kimmy Schmidt is a breath of fresh air. Check out the trailer below.
What do you think of the show? Let us know in the comments or tweet us using #glamorouspaper! And if you haven't seen it yet, go check out seasons 1 and 2 of Unbreakable on Netflix now!
(Visited 295 times, 1 visits today)