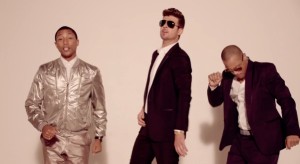 The Lines might not be so blurred after all for Robin Thicke and Pharrell Williams after a jury ordered them to pay $7.3 million dollars to the family of legendary singer Marvin Gaye for copyright infringement. The ruling comes after a trial that has lasted over a year regarding their 2013 hit "Blurred Lines".
Gaye's family accused the men of ripping off Gaye's 1977 song "Got To Give It Up" which does have an undeniably similar beat to "Blurred Lines". Both men strongly denied these allegations, with Thicke giving a myriad of excuses for his actions. Previously, Thicke had taken full credit for the song, which had also faced backlash because of its controversial content and potential rape suggestions. However, during his deposition he claimed that Williams was actually solely responsible for the beat. He further went on to claim that he was drunk and high on Vicodin the whole time of the recording.
"To be honest, that's the only part where — I was high on Vicodin and alcohol when I showed up at the studio," Thicke said. "So my recollection is when we made the song, I thought I wanted to be more involved than I actually was by the time, nine months later, it became a huge hit and I wanted credit. So I started kind of convincing myself that I was a little more part of it than I was …I wanted some credit for this big hit. But the reality is, is that Pharrell had the beat and he wrote almost every single part of the song."
This was a stark contrast to his earlier claims to the media, where he detailed how he came up with the idea and his wife (now estranged wife), Paula Patton loved it from the beginning. Blurred Lines was a huge success upon its release and became the longest running number one hit of the decade. However, it was believed to be heavily influenced by Marvin Gaye's song. Gaye is a man Thicke himself has claimed influenced his musical sound greatly. The two songs begin with a similar opening beat and manner of voice. The Gaye family announced they would like to stop the sale and distribution of "Blurred Lines" until an agreement is made in regards to the royalties of the song. In response to the outcome of the lawsuit Williams, Thick and T.I. made a statement claiming they are considering fighting the issue further.
Do you think the song was stolen from "Got To Give It Up"? Who do you think really wrote "Blurred Lines"? Sound of in the comments or on Twitter using #GlamorousPaper
(Visited 175 times, 1 visits today)