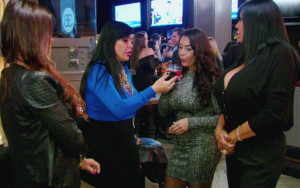 At one point Fox even walked of the stage in tears saying " You guys just broke my heart, I can't." When Natalie G, discuss the domestic violence relationship she was previously in. Fox broke down because domestic violence is close to  her heart as she deals with women who have nothing.
As much as these women might try to bite their toung it is almost impossible. Especially for both Natalies. Although Natalie D, failed at her second attempt to fight Natalie G, she did accomplish to make her leave the show. With Fox final question on where they all stood " Do you believe Natalie D, or Natalie G?" asked Fox.
Theres no doubt that this on going battle on who's a rat or not will never end. Like they said "Trust no One," these lady's have no problem going from 0-100 real quick. But hey at least they know how to put on a show, am I right? The show closed off with everyone besides Nat G, on good terms…For now, So until next season to the cast of Mob Wives.
(Visited 106 times, 1 visits today)