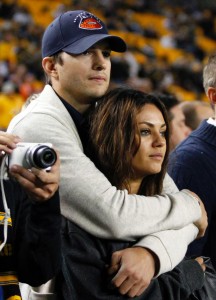 As a huge That '70s Show fan, Mila Kunis and Ashton Kutcher quickly became my favorite celebrity couple of all time. So, I was extremely excited when I heard they might have gotten married in secret. However, soon after that report came out others followed contradicting the story. This made it unclear about whether the couple is in fact engaged.
Kunis appeared on the Late Late Show, where the topic of baby Wyatt and Kutcher quickly came up. It was during this appearance that fellow guest Tom Hanks referred to Kutcher as her "hus…Ashton" insinuating that the two might have gotten married. Then, when host James Corden asked if they did get married Kunis responded with "Maybe". Corden and Hanks grabbed hold of her hand, which contained a suspicious band and congratulated her on her marriage. This definitely made it seem like Kunis and Kutcher had gotten married.
This is not the first time the couple has done something to make the public believe that they are married. Kutcher posted a New Years message written in the sand signed the Kutchers. This announcement led to a frenzy claiming that Kunis is now a Kutcher. When asked about the tweet on The Ellen Degeneres show, Kunis played coy. A secret marriage would not be too far fetched considering Kunis' previous comments that she planned to get married without telling anyone.
However, despite all of the evidence proving that the pair is married, Us Weekly claimed that they are not married yet. Instead, Kunis and Corden were just joking and Kunis denied the rumors. However, given the video and past tweet it seems to me the two are probably married. Either way, it's a travesty that the world will never get to see photos from that wedding.
Do you think Ashton and Mila got married in secret? Tell us in the comments or on Twitter using #GlamorousPaper
(Visited 363 times, 1 visits today)