For this week's edition of the Men's Style Guide I chose to highlight a fashion trend that has become extremely popular in the recent months. Can you guess what it is? No? It's Joggers! Joggers have been on the rise sense last fall and they have only evolved. I picked out a few pair from PacSun.com that will sure to get you in style for Spring.
This pair of blue joggers is made from the brand Katin Stage. They have mixed the jogger look with a Chino Pant feel and added thick elastic ankle cuffs for style and comfort. These joggers come with slanted front pockets, button waist, zip fly and are 98% cotton and 2% spandex. These are an online exclusive pair and are retailed at $59.95.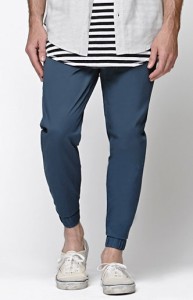 This pair of light brown joggers are one of a kind. They are made by Bullhead Denim which is known for their denim jeans and chino pants. These joggers come with slanted front pockets, welted faux back pockets, elastic waist, banded cuffs, skinny fit and are 98% cotton and 2% spandex. You can find these in-store or online retailed at $49.95. These joggers also come in a few other colors like olive green, tan and white.
Take any of these pairs of joggers and dress them up or down. These are super light weight, flexible and affordable. For a fancier look pair any of these with a button up, tie, blazer and a casual dress shoe and you'll be ready for that work presentation, meet and greet, or just another day at the office.
To take your look down for the night out you can lose the blazer and tie, switch the shoes for your favorite pair of Vans or Nikes and keep the button up. If you wanted to take it down even more you can even wear your favorite graphic tee. You'll be ready for a casual night with that special someone or a night out for drinks.
Hashtag #GlamorousPaper for more fashion tips and advice and show us how you wore your joggers!
(Visited 254 times, 1 visits today)