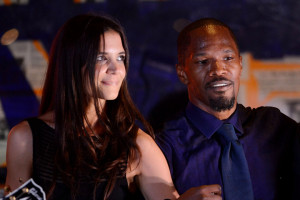 In 2013, it was reported that Katie Holmes and Jamie Foxx had hooked up. Many news outlets reported then that the hook up did not actually take place or it was just a one time thing. As a result, most people had forgotten there was ever even a possibility of the two becoming an item. However, it's being reported this week that the two have been secretly dating the whole time since.
Reports claim that the two had hooked up after dancing with each other at a Hampton's party in Late August 2013. At this party, Foxx even allegedly grabbed Holmes' butt on the dance floor. It was then reported that they were in a friends with benefits type of relationship that lasted until September. However, both stars denied the rumors, claiming that they had never hooked up. "[The rumors] are 100 percent not true. In fact, it's quite hilarious because we simply danced at a charity event along with a lot of other people," said Foxx. Holmes' rep also adamantly denied the accusations.
However, it came to light this week that maybe the two stars have actually been dating this whole time. Us Weekly Magazine posted a photo of the two holding hands in what appears to be a music studio from February of this year. In the grainy shot, the two appear to be pretty cozy. Additionally, it was reported that they are starting to get more serious and really like each other.
If they are dating, this is Holmes' first relationship since her high profile divorce from Tom Cruise, who she was married to from 2006 to 2012. The couple shares a daughter, Suri Cruise. Since their divorce, the couple is allegedly not on speaking terms, even about Suri. In fact, Tom has not seen Suri in months due to him working in London.
Do you think Jamie Foxx and Katie Holmes are dating? Do you think they are a weird match? Sound off in the comments or on Twitter using #GlamorousPaper
(Visited 104 times, 1 visits today)