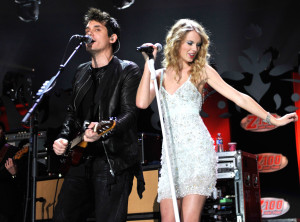 John Mayer has long been famous for his interviews, often sticking his foot in his mouth or coming off as a douche bag. However, he recently gave an interview to MSNBC that many are seeing as a sign that he has changed his ways.
In the interview, Mayer describes himself as a "recovered ego maniac" and even praises acts of Taylor Swift, who he has famously feuded with since they broke up in early 2010. Mayer praised Swift's decision to take her music off of popular music site Spotify, saying "Artists need the person with the loudest voice to speak for them."
However, not all of Mayer's words proved that he was reformed. He made the statement that "nothing bothers [him] anymore" when referring to the success of other performers, but sounded slightly bitter.
"There are going to be times when I make music as popular or empirically valuable as [Swift's] in terms of making pop music that won't sell as many copies and I'm fine with that. Look, if I save a baby from a burning building and Kanye [West] saves a baby from a burning building, Kanye's going to get more Google News hits. And I'm fine with it."
He didn't sound entirely fine with it. Additionally, Mayer went on to describe himself as extremely talented and stated during the interview that everyone knew he was going to be successful and his stardom made total sense. However, he did state he hit rock bottom due to an intellectual downfall. Additionally, He claimed that he is not a womanizer and never was. This was a stark contrast from the way he has been portrayed in the media after relationships with a bevy of famous women including Katy Perry, Jennifer Aniston, Jessica Simpson and Taylor Swift.
It was talking about these relationships to the media that got Mayer into trouble in the first place. In an infamous interview with Playboy Magazine, Mayer described Simpson as "sexual napalm" and compared her to crack cocaine. Additionally, he detailed Aniston's reluctance to use technology. There is no greater media sin than dissing America's beloved Friend Jennifer Anniston publicly and he caught a lot of backlash for his comments. It remains to be seen whether John has reformed or will continue to give revealing interviews about his love life.
Do you think John Mayer has changed? Does he bother you or are you a die-hard fan? Let us know in the comments or tweet us using #GlamorousPaper
(Visited 175 times, 1 visits today)