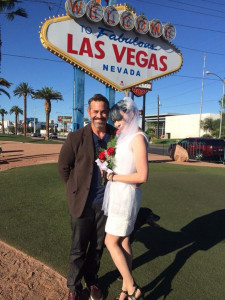 For fans of the cult classic TV show Buffy the Vampire Slayer, Nicholas Brendon is best known as the goofy Xander who always had a witty response in the face of danger. However, Brendon is becoming more known for his current downward spiral. Most recently, the actor was arrested on Friday, March 13th in Tallahassee, Fla.
Brendon was arrested for allegedly breaking a mirror and flipping a mattress in his hotel room creating up to $1,000 of damage. Additionally, he was allegedly found sleeping on the floor outside of his room by other guests. The actor was in town for the ALTCon geek convention. This incident was just one of many examples of his recent erratic behavior.
Brendon married Moonda Tee in Las Vegas in October, one week after he proposed to her in a hair salon. Later that month, he was charged with "malicious injury to a property" and "resisting and obstructing officers" in Idaho, after he drunkenly broke a dish in a hotel lobby. Five months later, Moonda and Brendon decided to end their high-speed romance. In February, he was charged after trashing his hotel room and refusing to pay a food bill in Fort Lauderdale, Fla.
Brendon's recent behavior is likely the result of alcohol abuse. In 2004, he checked himself into rehab for the same reason. "After realizing that I had a disease that was taking control of my life, I decided that the best way for me to regain my health was to enter a treatment facility," Brendon said at the time. Unfortunately, it seems as though the disease is once again taking control of his life. Hopefully, he will be able to get the help he needs.
"Nicholas is, unfortunately, battling a disease that many of us don't understand," his rep told TMZ. "We are working with him to improve upon the situation at hand and look toward the future."
What do you think about Nicholas Brendon's situation? Let us know in the comments or on Twitter using #GlamorousPaper
(Visited 107 times, 1 visits today)