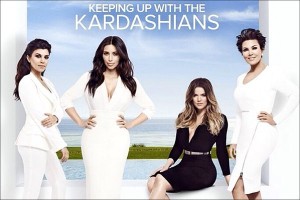 Ready to hop on board another season of Keeping Up With The Kardashians? Season 10 is sure to be an emotional roller coaster as the former "big happy family" we once knew finds themselves in a heart wrenching divide. But don't worry, if we know the Kardashian clan as well as we think we do there will be some crazy and outrageous moments sprinkled into the final season.
The first episode The New Normal, which premiered on Sunday March 15 introduced us to Kim Kardashian's latest version of "exercising." The gorgeous reality star sheds some light on her dedication to the baby making process by admitting she and Kanye West are getting busy "500 times" a day.
What's an episode of KUWTK without a nude photo shoot? Kim strips down in a very sexy photo shoot in an effort to preserve the memories of her fit bod before she adds potential baby weight to her physique.
Kourtney Kardashian visits Bruce Jenner in his Malibu home and makes an effort to keep him updated on what's happening on the Kardashian front. But when he gets a mysterious call from Kris's best friend, Kourtney becomes very suspicious of Bruce's new single life.
The Jenner boys, Brody and Brandon, are not concerned with the emotional separation of Kris and Bruce and are rather embracing Bruce's single self as they throw a party themed "Bruce on The Loose."
Kim takes matters under her own hands and meets with Bruce for lunch to call him out on his shady actions. To clear the tabloid dating rumors, Bruce comes by the house to talk with Kris, but she is far from accepting his explanation and calls him an a**hole with no hesitation. Leave it to Kris to tell him off!
With so many turns of events happening with the Kardashian/Jenner family it's hard to predict what drama this new season will bring. We do know one thing we could count on. This season of KUWTK will keep us desperately interested in seeing what will happen next-for better or for worse! Make sure you tune in every Sunday to Keeping Up With The Kardashians! Comment below or use our Twitter #GlamorousPaper to let us know if you're looking forward to the new season!
(Visited 191 times, 1 visits today)