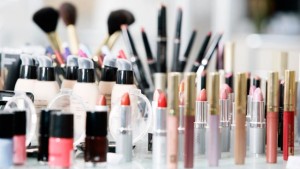 Good morning to our beautiful readers! Before you get up to wash your face and begin your daily morning primping session, we want to introduce you to a couple of our favorite video beauty bloggers. From perfecting that perfect cat eye to brushing a sun-kissed glow on your upper cheekbones, these beauty gurus know just how to help you find your perfect shade.
My first favorite video beauty blogger is Elle Fowler. I'm a girl who loves to experiment with different types of makeup.  Whether it be a funky new eye shadow color or a deep red lip, makeovers are my favorite pasttime.  Many skin care products can be very expensive to buy in places like Sephora or department stores and that's why we turned to Elle for advice.  She posted a video on her YouTube channel AllThatGlitters21 showing us her latest drug store makeup haul.  We got the inside scoop on which products to throw in our carts!  With so many makeup choices in the drug store aisle, Elle's beauty roadmap is a serious lifesaver.  I found her foundation color advice to be especially helpful.  Buying a foundation in a drug store is usually the hardest item to buy because you aren't able to test it out. With Elle's tips on blending colors to create a flawless shade, she assures us perfection is attainable. Elle loves to take advice from fans on Twitter and does a lot of research on her own to make sure she gives her viewers the best beauty advice!
Check out her Drugstore Makeup Haul video here!
The adorable Zoe Sugg is my second favorite beauty channel blogger.  She is my go to girl when it comes to simplifying and freshening up my makeup routine.  Zoe effortlessly explains every step in her makeup process with her cute British accent. I recently checked out her spring makeup tutorial video on her Youtube channel Zoella to transition my heavy winter makeup application into more of a natural lighter look. I love how Zoe is very specific in describing which products she is using and how she applies each step.
Take a look at her Spring Makeup Tutorial below!
We hope you learned some new makeup tips and tricks by watching our favorite YouTube beauty bloggers!  Comment below or shout us out on Twitter using #Glamorouspaper and tell us your favorite beauty YouTube channels!
(Visited 89 times, 1 visits today)