"Hindsight" is VH1's newest show and so far it's off to a great start. The premise is versatile in that it appeals to multiple generations: Becca (Laura Ramsay) finds herself transported into the past, specifically to her first wedding day in 1995. With tons of pop culture references from both the 90's and today, everyone can enjoy the quirkiness that is "Hindsight." Becca and her best friend Lolly (Sarah Goldberg) attempt to navigate the difficulties of time travel while dealing with dating, heartbreak, and basically trying to be adults. Now that's what I call relatable.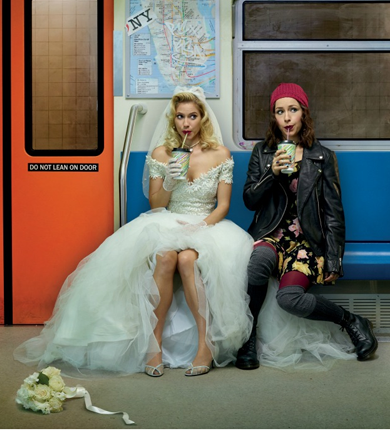 So far VH1 has aired five episodes and each one has called me back for more the next week. The show is unique, fun, and the perfect mix of old-school and new humor. It has a few rough edges of course: the characters still need time to become truly lovable and the drama has been piled on a bit too heavily for the first few episodes, but overall it's a dramedy success. The amazing 90's fashion is reason enough to watch, but add in the hilarious references and you have a hit for anyone who grew up in that era. I'm intrigued to see what befalls time-traveling Becca, Lolly, her brother (John Patrick Amedori), and her ex-fiancé Sean (Craig Horner – yum, btw!) in the rest of the season. Check out the trailer below!
"Hindsight" airs on Wednesdays at 10 PM on VH1. Tell us what you think of the show in the comments and what other shows you love!
(Visited 154 times, 1 visits today)